Udom Emmanuel Snatches Victory From Uncommon Quarters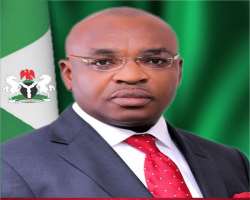 " *It is well, all things work together for good to them that love God and are called according to His purpose, the PDP family in Akwa Ibom State is intact* " Thomas A. (PDP Chieftain)
What was supposed to be an issue in Akwa Ibom State recently has unfortunately ended as a no news item after a few rambling rumbling of ego masturbation. The celebration of notoriety by a few for mere face saving could not be missed by pundits who believe the defection was more of an error and a bad omen to parties involved than the overrated non existent goodwill. In mergers and acquisitions when takeovers become expedient goodwill becomes part of the Assets taken into the books and properly valued. In some unfortunate cases when poor feasibility studies had taken place with the books cooked badwill could be mistaken for goodwill. This is the case in Akwa Ibom APC politics today and their new found love, leader and mother.
What was expected to be a tsunami laughably ended as a sole walk to political oblivion because when a leader takes a walk without the followers its nothing but a walk instead of leadership. Oh how fleeting influence can wane with one bad move. What was meant for evil against Mr Udom Emmanuuel has already turned to good. What was meant to devastate the leadership of this great state has rather enlivened all to arise and prove they are men courageous enough to face life come what may. AkwaIbomites have risen beyond party lines, beyond ethnicity to make a statement, there now exist uncommon cooperation from unexpected quarters seeking victory for Mr Udom Emmanuel second term bid. Of a truth all things are working together for good to a God fearing and loving Governor.
Not a few folks despised this administration for transferred grievances based on innocent association but since the defection they have found a place to be placated for their enemy and culprit had jumped ship for them to take their true place on the grand stand of life. The Ibibios do have a proverb that says;
" *When God does a thing, people will say 'it looks like it's done by God* ' "
Who can explain the rational behind the defection beyond the political cover-ups here and there? There is no logical correlation between a potential majority leader defecting on the eve of victory to float as nothing. It makes no political or common sense to become the victim willingly when conquering was a nature. Only the gods could force mortals into such errors. Do we then blame the gods for being crazy enough to making the dog mad so it could be killed?
Those in better proximity to Mr Udom Emmanuel have confirmed consistently to the fact that the Governor remains unperturbed, unruffled with a calmness only available for men assured of victory, this kind of confidence belongs only to conquerors and its uncommon. The Ibibios have risen beyond senatorial districts, beyond party lines and beyond past political differences to say enough, some Annang intelligentsias have distanced themselves from the madness of one man for this singular selfish act can frustrate the Annang tribe from ever producing a Governor as the Ibibios who are the majority can in a revolving sequence produce Governors from the three Senatorial district without recourse to any other tribe from this unpopular attempt to frustrate Mr Udom Gabriel Emmanuel just to repeat a bad history, though such distancing remains to be proven at the polls.
An election that was supposed to be issue based has grown beyond issues to sentiments and personalities. While hundreds of thousands will votes Mr Udom Emmanuel for his superior performances, others will vote him to proof the defector wrong, others will vote for the Ibibio pride because if Mr Udom Emmanuel fails today, the Ibibio pride shall be completely shattered and the minority warlord shall for ever spite our collective intelligence. This open shame must be resisted with our votes.
The Ibibios though the majority have always been fair, all of Oro Nation and the Annangs can attest to this reality for that was how Obong Victor Attah paved way for Annang to produce Governor when the Ibibios in Ikot Ekpene Senatorial district would have been in power as majority as in some states here in Nigeria. This is what Akpabio should have done in 2015 but for lack of political will and selfish reasons, the burden now lays on the Ibibios to show leadership by seeing to it that an Oro blue blood becomes Governor after Uyo Senatorial district must have taken her turn anti clockwise from 2023.
Its an impossibility to play down on the essence of ethnicity based on the open secret biases of a man that should have known better. Today, Udom Emmanuel is of the Ibibio stock and his second term bid must be sacrosanct, it must not be on record that an Ibibio son failed his second term bid because of the betrayal of an Annang man, this history must not repeat itself no matter what.
Like David rescuing the sheep from the Lion and the bear, Mr Udom Emmanuel through divine providence snatches victory from the claws of the proud; he snatches victory from uncommon loyalists of the past because God is with him. Whether Mr Udom Emmanuel decamps to APC as rumoured or stays in PDP as expected, victory is sure for 2019 is beyond the party but a people, it's beyond Udom Emmanuel in person it's about the soul and integrity of a generation. This decision lays with us the people to prove that no man is ever superior without our cooperation.
*Defend the Ibibio Pride*