Borno Af-nship Signs Purchase Contract Documents With 34 Health Facilities After Pbf Training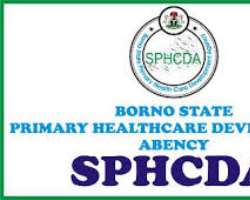 Borno State Primary Health Care Development Agency (BOSPHCDA) through Additional Financing -Nigeria State Health Investment Project (AF-NSHIP), a World Bank assisted Project, yesterday signed a Purchase Contract with 30 Primary Health Care Facilities and 4 General Hospitals in four additional Local Government Areas of Hawul, Shani, Kwaya Kusar and Bayo to strengthen the health system through strict adherence to Performance Based Financing (PBF).
The Signing of the contracts was part of the 2nd Scale Up initiatives after it conducted a Baseline Assessment Tour of the selected public and private facilities and trained the Facility Managers as well as the Ward Development Chairmen (WDCs) drawn from the benefiting communities on PBF.
Recall that AF-NSHIP/PBF started its implementation project in June 2017 in 37 health facilities from two Pilot Local Government Areas of Maiduguri Metropolitan Council and Jere, with first scale up in 32 PHCs and 4 General Hospitals in Biu, Askira- Uba, Kaga and Magumeri, before the 2nd scale up which brings the total number of benefiting facilities to 107.
In his address at the end of a week- long intensive training of over 80 Participants and Signing - In Contracts at Emerald Royal Hill Hotels ltd, Gombe state, the Executive Director, BOSPHCDA, Dr. Sule Meleh congratulated the Facility Managers and WDCs for not only participating in the PBF training, but also for forming part of the selected health facilities to benefit in the scale up project.
Dr. Meleh said, as purchaser of the contracts between his agency and the facilities, strict monitoring, evaluation, mentoring and supervision will be applied to each of the facilities to ensure adherence to transparency, accountability, community participation and good healthcare delivery services in the state.
To this end, Meleh said, after signing the contracts, subsidies will be given to the facilities based on categorization and Business Plan, adding that, with the new paradigm shift, there is no longer going to be 'Facility In-Charges, but Facility Managers, where everybody will do business, work and be motivated using PBF.
He noted that, in PBF, "there is nothing like carrot, as there is going to be a Big Stick to ensure healthy people in the society".
Dr. Meleh said despite the security challenges posed by insurgency, the Agency expressed satisfaction with Governor Kashim Shettima's concern on how to improve the healthcare delivery services at all public and private health facilities in the state, and the support being received from the National Primary Health Care Development Agency to ensure scale up of AF-NSHIP/PBF in all the 27 Council areas of the state.
In his goodwill message, the Project Coordinator of NSHIP (National), Hajiya Binta Ismail, represented by Mrs. Comfort Dave- Diamond pledged full support to Borno and its health workers to ensure health for all.
Also, Dr. Lucky Audi who spoke on behalf of the Independent Verifiers and Contract Management Verification Agents promised to continue give their maximum support in the area of Coaching, Mentoring and Supervision to workers in the benefiting Health Facilities.
In his vote of thanks on behalf of the contracted facilities/Service Providers, the Principal Medical Officer of Shani General Hospital, Dr. Friday Ani and Facility Manager of Teli PHC, Mr. Mohammed Ali expressed gratitude to the agency and AF-NSHIP, and promised that they will be fully committed to ensure that the contracted facilities move from primitive to modern way of doing things in the health sector.
Earlier in her Welcome address, the Coordinator PIU, Mrs. Habiba Saidu called on all participants to key into the project and always ensure transparency and community participation to achieve Universal Health Coverage using PBF approach.
Saidu however appreciated the wonderful commitment displayed by the facilitators and participants during the week long programme, noting that, very soon, the project will scale up to other Local Government Areas of the state.