A Travelogue To Ijoto River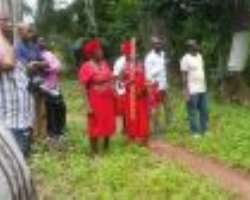 It was indeed a great moment spending my day in the midst of fellow writers, as we all thronged at Ojoto, the country home of one of us -- Late Poet Christopher Okigbo of blessed memory.
Yes; it was the "Return To Idoto" (part 2), which is a periodic poetic festival and fanfare held in memory of the great poet -- Late Christopher Okigbo who died in 1967 during the Civil War.
He was the like of Late Prof. Chinua Achebe, as punctured in Achebe's "There Was A Country" while phrasing the aged-long piece --- "Father Don't Let Him Die".
This year's edition was indeed memorial, poetical, convivial and more importantly full of adventures, as we all toured around (amidst melodious libations) to the strategic places that were topical and significant to Okigbo's life and writing/books.
After pouring some some slams of dulcet epopees garnished with epical saga and melodious libations right at the front of Late Okigbo's grave, we set out to Okwu Ụkpaka Ojoto (the well-engendered shrine of the historic Idoto Spirit) where the Ezemmụọ Chief Patrick Obieze welcomed us with the ritual of breaking the kolanut Chief Priest. Here, great poets also cracked their epics amidst libations by three red-dressed women, one dangling the bell, one screaming aloud the libation as we marched, and the other popularly known as Ọgbanje leading the way with an arcane ornamental staff, showing the preparedness of the people forthe journey.
And from thence we tripped diametrically to the Okwu Idoto (The Temple of Idoto, the female goddess), where we also muttered and buried a plethora of poetries, right before the temple.....
From there we headed antipodally to a fossil ụkpaka tree under which we were told Late Okigbo used to repose and sometimes compose his poems back then whenever circumstances necessitated. And there, epical 'poesies' were also showered by great poets, right proximal to the great stemmy ụkpaka tree...
And finally from there, we adventured down to the enigmatic and esoteric Idoto River where we poured the best of the poetries at its peak and climax, both right before the river and under a snug and cozy arena naturally sheltered by live bamboos, with one elderly man and a traditionally-minded young lad readily seated and entertaining us with dulcet melodious and humble tunes which flared out as they romanced their local instruments of ịchaka and ikolo (ekwe ọdịnala), proudly registering their welcome to us and exhilarating the bizzare pride of the Igbo cultures and traditions.....
It was indeed a memorable adventure, my people, and in fact the best I have ever had in this recent time, both as a creative writer/poet and as a journalist.
Thanks to my MD Sir Chuka Nnabụife, who made my dream of being part of this year's edition a reality.
In case you may wish to know, among the poets and authors who peregrinated these with us were:
Denja Abdullahi (the National President of Association of Nigerian Authors).
Ikeogu Oke (the Winner of the Nigerian Prize For Literature 2017)
Amarachi Atama (the CEO of Nwaadadịọramma and ỌJA)
James Eze (an author and Chief Press Secretary to Gov. Willie Obiano)
Odịlị Ujubụọñụ (the author of 'Pregnancy of The gods' and two-time winner of ANA Prize For Literature)
Sir. Chuka Nnabụife (a poet, a journalist, an actor, and CEO/Editor-in-Chief of the National Light Newspaper).
Prof. Ngozi Chuma-Udeh (a poet/author and the dean Faculty of Art Chukwuemeka Ọdụmegwu Ojukwu Univeesity Ịgbarịam, as well as the Secretary General of ANA, Anambra Chapter)
Maxim Ụzọatụ (a Poet and Author),,,,
among numerous others.
May this trans-generational fire of poetry and creative writing never die in our own generation.... Amen...
All in all, my dear friends, I thank God for journey mercy....