Owners of demolished properties in Osogbo beg Aregbesola to pay compensation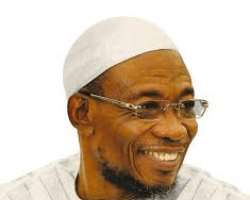 The landlords whose buildings were demolished in Osogbo, capital of Osun State by the administration of Governor Rauf Aregbesola to pave way for road construction have appealed to the governor to pay them compensation.
Speaking on behalf of the landlords, Mr Moshood Oladejo pleaded with Aregbesola to expedite action on the payment of their N 2 billion compensation which he promised to pay them since 2014.
He said many of the landlords have died compensation and that those that are still alive need their money to take care of themselves.
"We want to appeal to Governor Rauf Aregbesola to pay our compensation so that we can enjoy it while alive. Since the demolition of our our houses in 2014, we have been leaving in abject poverty and many of us have died", Moshood said.
Also speaking, Mrs Mariam Abiona whose property was also demolished appealed to the governor to pay the compensation. Abiona said the property that was demolished was her only source of income.
Another property owner that was also affected in the demolition, Alhaja Adefunke Haolat said she depended on the property to survive and pleaded with Aregbesola to pay their compensation.