2018 World Humanitarian Day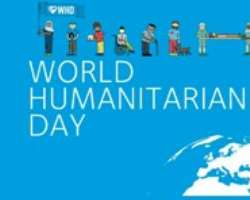 The National Emergency Management Agency in collaboration with National Commission for Refugees, Migrant and Internally Displaced Persons with support of the United Nation Systems in Nigeria and ECOWAS is organizing the 2018 World Humanitarian Day in Nigeria.
A statement issued by Sani Datti on behalf of the Meedia Sub Committee Thursday said Sunday 19th August 2018 will be the World Humanitarian Day (WHD). This year's theme is "Not A Target", which is the same with that of last year to sustain the momentum and rally support for people living with humanitarian crises as well as pay tribute to the aid workers who help them.
As Nigeria joins other countries to observe this Day, the series of activities designed to bring together humanitarian workers to reflect on their significance are as follows:
i. Saturday 18th August 2018. Morning Road walk at 7:00am in Old Parade Ground Garki area 10 Abuja, by representatives of all national humanitarian agencies including United Nations systems in Nigeria.
This would be followed by a brief ceremony at the end of the roadwalk where United Nations Resident Coordinator for Nigeria and heads of the National agencies would deliver goodwill messages.
ii. The social media awareness on the day with the hashtag #NotATarget which began days ago would continue and the public are requested to join in sharing the message.
iii. Sunday 19thAugust 2018 special Radio spotlight to highlight on the significance of the Day.
This year's World Humanitarian Day (WHD) marks the fifteenth anniversary since the attacks on the Canal Hotel in Baghad, Iraq, which killed 22 people including the Special Representative of the United Nations Secretary General for Iraq, Sergio Vieira de Mello.
In 2008, the United Nations General adopted a resolution designing 19th August every year as the World Humanitarian Day.