Delta Governor Gives Automatic Employment To Doctor
… "It Has Been A Very Fulfilling Experience" --- Governor's Wife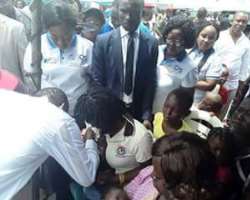 Governor Ifeanyi Okowa of Delta State has given automatic employment to Dr. Onoriode Christiana Umolo, for her unwavering and tireless support towards the governor's wife, Dame Edith Okowa's Pet Programme, 05 Initiative in taking healthcare delivery to the grassroot.
The governor Monday, gave the directive for her immediate employment while making his remarks at the Grand Finale of the 05 Free Medical Outreach in Collaboration with Restore Sight Africa Initiative for Oshimili South local government area held at the Stephen Keshi Stadium, Asaba.
According to the governor, "somebody who has that kind of heart will obviously be a good Doctor. So, Doctor Permo, work with the Commissioner for health, I want that file on my table tomorrow", he ordered.
He pointed out that volunteering to work was a good thing, "and we must thank God that people still have that kind of heart to attend to people for the passion that you have", stressing that the passion has yielded positive results since she collaborated with 05 Initiative.
Okowa noted that since the inception of the 05 Free Medical Outreach, 2, 008 surgeries have been carried out with the restoration of sights to victims alongside with free eye glasses.
In her speech, the wife of the governor, Dame Okowa, who could not hide her joy, while aligning with her husband revealed that "a total of 2, 008 persons benefitted from the free surgeries while 13, 000 received free eye glasses".
While expressing gratitude towards the success of the programme which commenced four months ago, Dame Okowa said "it has been a very fulfilling experience for us and all those who joined us to traverse the length and breadth of Delta State during the course of the outreach. Today is the perfect day to appreciate all who have contributed to making the dream of many people regaining their sight a reality".
She hinted that Burutu local government was the next point of call in November this year when the rain would have subsided.
She thanked all those who have contributed to the success of the programme in one way or the other which include the state governor, the Commissioner, Ministry of Health, Dr Mordi Ononye, Zenith Bank, Corporate bodies, public spirited individuals and Restore Sight Africa for their sacrifices.
On his part, the local government chairman, Comrade Uche Osadebe, commended the governor's wife for her efforts in ensuring that Deltans with health challenges were reached through her pet programme.
Meanwhile, Dr Ernest Ogbeide, Restore Sight Africa, noted that 23, 500 patients were attended to in 23 local government areas of the state.