Saboteurs passing secret information to Boko Haram: Military sources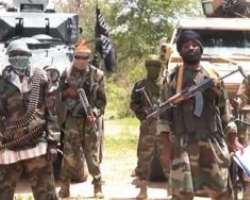 A new dimension has crept into the fight against terrorists in the North-East.
Informed military sources disclosed to Sunday Tribune that there are fears that some members of the military are passing on secret information to the insurgents
According to the source, about 650 soldiers and officers were deployed to the North-East from battalions in 81 division of the Nigerian Army.
The source said that the soldiers were camped in a village in Borno preparing to be inducted into the theatre of operation when the Boko Haram terrorists launched their attack in the midnight.
The source added that the troops were new to the area and know nowhere, adding that while a large number of them were killed, some ran across the border to Cameroon with a large number still missing.
Big puzzle Confronting the military high command is: how did the terrorists know that new troops are to be inducted into the theatre of operation and where they were camped?
The source disclosed that the Boko Haram terrorists carted away a large number of arms and ammunition during the attack.
Meanwhile, it was gathered that the military has acquired a high technology equipment to monitor calls from troops in the operational area.
The source said that the German-made equipment is used to scrutinise communication outlets in the operation against the terrorists.
Sunday Tribune gathered that the fifth columnists in the military were giving the high command a serious concern and have vowed to fish out the bad eggs amongst them that leak out secret information to the terrorists.
The source added that the army is still searching for the rest of the soldiers who were able to escape.
On the number of troops that were killed in recent time as the terrorist heightened their attack, the source said it is a global law in the military never to release number of casualties, as it will dampen the morale of troops on the front line.
"I can tell you categorically that no military can divulge the number of casualties in any operation, as it is a classified secret until after some years when it is declassified.
Tribune