WHAT I FOUND WASN'T TRUE LOVE – RUKKY SANDA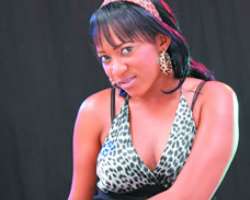 Rukky Sanda
She is one of the emerging faces and if you like forces in Nollywood. She is gradually etching a place for herself in an industry where stars and wannabes get lost by the second. Rukky Sanda in this interview bares it all about her experience and how close she is to controversial actress, Mercy Johnson.
What have you been up to lately?
I've been working as usual. I'm trying to finish up a script and start work on Thursday.
After Lethal Woman have you produced any other?
Yes I have. I have done Obscure motive and In her shoes
How did Obsure motive and In her shoes fair in the market?
In her shoes is yet to be released. Obscure motives is really doing well in the market. Jackie Appiah, Yemi Blaq, Ngozi Ezeonu and others starred in the movie.
Who are the guys in In her shoes?
Van Vicker, Yemi Black, Uche Jombo, and others.
Why are you always working with Uche Jombo?
That is the only film Uche did for me.
But in other production, you always get to work with her. Why?
We've not really worked together that much. Just a couple of other people's film and her film… the one she produced. She is my friend, why wouldn't I work with her? More so, she is a professional. I don't see anything wrong in working with her.
You performance in Guilty Pleasure was much better than that of Lethal Woman. What happened?
They are two different characters.
Does it have anything to do with the directing?
It has nothing to do with the directing. It was the role, the character that I was interpreting and that was all it was all about.
Which would you consider your most lively character in a film?
Well, I like to play any role. I don't look forward to the liveliness of a character, everything is a challenge. So I try to face new challenges in every role I play. But I try to avoid being stereotyped ,because there was a particular time that I was always playing a particular role. For now, I would rather not play the role than repeat .
How often do you get engaged in other people's production?
Well, I work for other people, but I don't just work for anybody. This year, I have featured in nine films
.
Which ones?
I do not know. I have done one with Uche, Desmond and others.
But, which of them did you play lead role?
It is not about playing the lead role. It's about your role having meaning. You can play a lead role and yet, it is someone that played a minor role that people will remember. I look at the role , though, I have played lead roles in about five of them.
What happened last year… you were not that busy on movie sets?
I was busy doing some other things.
You were busy or the producers were frustrating you?
Nobody can frustrate me. I do what I want when I want. I have other jobs that I do other than acting.
Since I've known you, you are good in commerce…
To make more money, you have to invest. You can't keep working, earning salary and spending money and still expect to make more money. You have to invest. Since my first year in college, I have been travelling and buying goods to sell.
Is that one of the things you learnt from your mom?
Not exactly, I am just a commerce oriented person. I believe you have to invest to make more money. So, that is the way I see it.
Do you think your decision to stick to the English genre of movies despite being Yoruba has paid off?
Yes. It is what I want to do. It is not what anybody thinks and wants me to do. I'm being what exactly I want to be, I'm exactly where I want to be. Moreover, I don't see anything wrong with a Yoruba or an English film. The most important thing is for me to have interest in either . If I don't have interest, I won't do it.
How easy has it been for you as a Yoruba actress?
I don't think it has anything to do with tribe. From my own point of view, I don't think it has anything to do with you being Yoruba, or Igbo. If they see you are good and they want to employ you, they will .
But people complain of prejudice all the time?
Fine, it doesn't mean they are discriminated against or something. I think it is just the idea people have about it. There are lots of people that have made it today, they didn't just come into the industry and just made the award. You have to work hard. You have to be persistent.
So those complaining about prejudice don't know what they are talking about?
I don't think they try hard enough. I don't think anybody should tell you what you want to be, who you want to be and where you want to be. I think, if you want something you have to go and get it, you can not settle for less.
So not settling for less means, if a producer asks you out you will not oblige him?
I don't know. I've seen it happen. I have see some couple of girls calling the producer and he didn't even have a job for them. He was like, if you want this, you should do this. It's how you throw it at them, it's how they see you, how you present yourself. I think you should let your work speak for you and if you have the opportunity, try to make the best out of it. Don't appear desperate.
How did you do your own without coming across as desperate?
I just do my job and get out. Again I let my work speak for me.
Did you not work for Chico Ejiro before?
It was Chico Ejiro's office but it was Sunny Mccdon's production. That was where I got my first role.
Tell me your period of trying hard, what were those things that you went through?
I think I'm totally different.I am not that kind of person that wants to die , if I don't get the job. I will always have something to do. At a time I used to have a big problem leaving Lagos to work. That was my major issue until recently.
You have your hands in so many other things. Are you not taking on so much at a time?
I create time for everything I want to do. I said I'm a business person. If I see a business that I can do and it's profitable for me, I will sit down and say I'm an actress by profession, this is what I should do. No, I will not do that. I will create time and work towards it and I will achieve what I want.
How profitable has it been, being a producer in the English genre?
I'm blessed, thank God.
They say it is very expensive to produce a movie?
Yes it is and that is why you have to take your time to do something that is good, so as to make your money back.
Have you always made your money back?
Not really . The first movie I did, people were selling it behind my back. Piracy denied me my rewards.
What film was that?
Lethal Woman. It was my first film and I regarded it as a trial. I had issues with actors in the film and that was because of my lack of experience. I won't say the movie was unsuccessful; at least I made my money back.
What about Obscure Motives?
Obscure Motives is still selling very well in the market though I have not put on TV stations yet.
How was it with Van Vicker because some people believe that Ghanians are very rude on set. What is your take?
That's is a big lie. Whoever said that is not a good person. It's not true at all.
When are you getting married?
Not any time soon.
How would you describe true love?
It's caring for someone unconditionally and being happy.
So, have you ever found true love ?
Yes.
What happened ?
It didn't work out.
But someone said, true love is supposed to last forever?
So I heard o. Maybe I should say what I had wasn't true love , but when I do find true love, you will know.
Some people say you are one of the big girls in the industry. You change cars and live big. What's your take on that?
I thank God for my life and for blessing me. I work very hard. That is why you see me using ten phones at the same time.
Are you a friend of Mercy Johnson's ?
She's not my friend. I have never had a conversation with her in my life. We've only worked on the same set.
Can you invite Mercy Johnson to one of your movies?
If she fits in, why not?