Chief Femi Fani Kayode Refutes Quote Credited To Him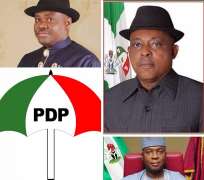 A PDP Chieftain, Chief Femi Fani Kayode has refuted a quote credited to him as a fake report. In a statement made available to The Nigerian Voice, the most Audible critic of President Buhari stated below:
"A FAKE qoute has been spread by the APC claiming that I said our party, the PDP, is in "a vegetative state" and that I attacked our National Chairman, Prince Uche Secondus, and other party leaders including Governor Nyesom Wike and Senate President Bukola Saraki.
This is a TOTAL FABRICATION. It is FAKE NEWS. I have immense confidence in our National Chairman, the PDP and ALL our party leaders, including Saraki and Wike. If I had any doubts about that I would say so loud and clear.
Members of the public should please take note that alll my comments, qoutes, contributions, posts, submissions and essays can be found on my verified twitter page, my verified Facebook page, my official website and any of my numerous columns.
If they do not appear in any or all of these places it means that I never wrote or said them. The APC and the Buhari Media Centre live and thrive on fake news. We should expect more. Shalom."