Capacity Building, Youth Development, Key To Economic Blueprint – Imo Deputy Governor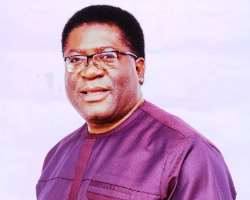 His Excellency, Prince Eze Madumere
The Deputy Governor of Imo State and frontline governorship contender, Prince Eze Madumere, has revealed that Capacity Building and Youth Development will form the cardinal programme of his economic blueprint to up productivity and development in the State.
According to him, the resolve to adopt capacity building and youth development as key policy thrusts are not unconnected with their strategic importance towards realizing development goals of the State.
Prince Madumere maintained that capacity building and youth development are critical areas for development of competitive work force that will have both the requisite skills and knowledge to drive any sector of the economy.
He therefore attributes the spate of unemployment in the society to lack of skills and knowledge to compete favourably with other better equipped candidates.
He, however, insists on an articulated economic blueprint where every sector is interdependent and also relevant to the success of others. He queries an education system that is incapable of providing qualified work force that can man various sectors of the economy.
It will be recalled that the number two citizen of the State with his wealth of experience in youth development, capacity building and having emerged from a corporate world, has promised to put Imo youths and workers on the path of relevance through training, developing the latent in the youth and channel their energy towards relevant areas in the economy where their skills will be needed.
The governorship hopeful who had earlier promised development of the Agricultural sector and make it attractive to the youth, maintained that improving agriculture and agri-business requires those with requisite skills and knowledge even when they are provided with the mechanized implements to work with.
The Deputy Governor also seek to ensure that the handlers of the economy are also knowledgeable environmental sensitive themselves to be proactive in their managerial responsibilities, thereby calling for their periodic trainings and improvement, which will help them in effective policy implementation towards achieving set goals.
Uche Onwuchekwa is the Special Assistant to the Deputy Governor on Media