Sacked DG, DSS Arrested and Detained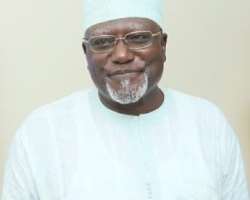 Minutes after his sack, DG of DSS, Lawal Daura has been arrested, Villa Sources said. It was gathered that Daura was ferried away via three Police vans including two Toyota Hilux vehicles and a jeep.
While the State House reporters were awaiting his exit from the office of the Vice President, Daura was taken away via the backdoor.
Daura is currently being detained at the SARS headquarters. Details of his arrest, alleged crime and probable charges is being awaited.
Analysts have likened him to an unsuccessful coup ploter who may be facing trason charges. "The parliamentary arm of a democratic government can not be toiled with as Daura has done" stated one analyst.