Transportation Of Fuel By Rail To Resume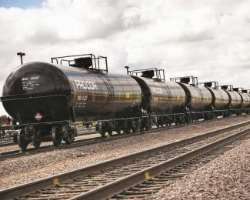 The Petroleum Equalisation Fund (management) Board (PEF) says it has set up a task force for the immediate implementation of transportation of petroleum products through the rail.
Speaking in Abuja, the General Manager, Corporate Services of PEF, Dr. Goddy Nnadi explained that the task force was set up by the Executive Secretary of the Fund, Alhaji Ahmed Bobboi for the implementation of the new equalisation model. job of the task force has hit the peak in working out the logistics for a smooth take off targeted at early 2019.
He said that Bobboi,has given the task force the matching orders to ensure that the take-off deadline was met.
He added that rail transportation of petroleum products was inevitable to it's the potentials in jobs creation, reduction of pressure and accidents on the roads.
He said it would generate more revenue for the Federal Government since it would cost less to move products around the country as well as reduce rural – urban migration.
He disclosed that members of the task force had commenced the inspection of rail lines in collaboration with NRC to ascertain how the movement of the products would be effected, what quantity of products would be moved on particular rail lines and destination of products.
According to him, after review of the collaboration, it was discovered that NRC has enough tanks to transport petroleum products from Lagos to Kano.
He added that some major markets have shown interest in buying into the new equalisation model.
He said that the new transport arrangement would create opportunity for the construction of inland tank farms which in turn would cause the availability of jobs.
He said another advantage of the new equalisation model is that rural communities will be served better due to shorter distances to be covered by road in getting products to the hinterland.
Beside the financial cost implications, he said the constant use of heavy duty trucks over long distances took its toll on the roads, while lots human lives were lost to vehicular accidents.
He said that security agencies would soon be engaged to work our logistics on how products would get to destinations without hitches.
He added that plans are underway to commence the equalization of cooking gas, LPG, by rail as a step in the efforts of the Federal Government to make the product available in rural areas at the cheapest cost.
He added that the move was also aimed at discouraging the use of firewood for domestic cooking on grounds that the felling of trees for firewood is a major contributory factor to deforestation and desert encroachment.