NPA readies N1bn investment for Eastern Ports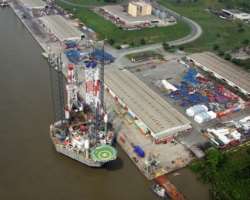 The Managing Director of the Nigerian Ports Authority (NPA), Hadiza Bala Usman, has expressed the agency's willingness to open up the eastern ports with N1 billion investments.
Usman revealed that the move would also decongest the western ports and also eliminate the chaotic traffic into Apapa.
The eastern ports include the seaports based in Warri, Onne, Calabar and Port Harcourt which, in the perception of operators, have been grossly underutilized and partly responsible for the seeming over-concentration of businesses in the Lagos Ports Complex (LPC) and Tin Can Island ports, both in Lagos.
Statistics shows that more than 70 percent of the cargo that comes into the two ports in Lagos, Apapa and TinCan are used within the Lagos and southwest axis. There are arguments that improving the capacity of the other ports would stimulate the economies of the areas and affect the cost of products and services positively.
This position, especially as it concerns the improvement of the living condition of residents in the port communities as well as creating job opportunities for youths in the areas, was what the Hadiza Bala Usman team met when it took over the affairs of the Nigerian Ports Authority in July 2016.
Last week, Governor of Lagos State, Akinwunmi Ambode urged the Federal Government to ensure that seaports in other parts of the country became functional to decongest Apapa port and ease gridlock.
Ambode also said that whatever had led to the continual use of trucks to lift fuel should be addressed immediately. Ambode also called for the reduction of the number of tank farms in Apapa and its environs.
He said that the distribution of tank farms to other parts of the state was necessary as concentration of about 68 tank farms in one place was risky in the long run.
"We need to distribute tank farm establishment to other parts of the state. This is what we believe should be done at this moment to free Lagos roads," Ambode said.
Recently, Vice President Yemi Osinbajo reiterated the Federal Government's commitment to the revitalisation of the moribund seaports in the Eastern region, stating that Nigeria would need more seaports but their development will be driven by the private sector.
"Many people are talking about Eastern Ports and I think they are important. We have also seen a lot of indication in the private sector that they are prepared to invest in some of these ports. So, the business of government is just to enable these things to happen and we are prepared to do that," Osinbajo said.
Source:
M&P, Agency Report