June 12: Jonathan Should Declare Abiola President - Activists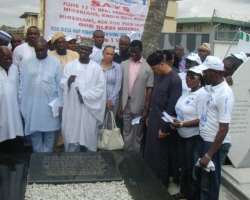 PHOTO: CIVIL SOCIETY GROUPS AND PRO-DEMOCRACY ACTIVISTS GATHER AT THE GRAVE OF CHIEF MOSHOOD ABIOLA DURING THE 17TH ANNIVERSARY OF THE ANNULMENT OF THE HISTORIC JUNE 12, 1993 PRESIDENTIAL ELECTION.
LAGOS, June 12, (THEWILL) - Civil Society groups, pro-democracy actors and human rights activists today gathered in Lagos to mark the 17th anniversary of the annulment of the June 12 presidential election and demanded that the Government of the Federation should declare Chief Moshood Kasimawo Abiola, who they said, won the election, as President.
About 40 groups across geo-political zones who were represented at the anniversary asked that President Goodluck Jonathan should take appropriate constitutional steps to pronounce Abiola as president and that a major monument should be established in his honour.

The groups advocated comprehensive electoral reforms based on the Justice Mohammed Uwais Electoral Reforms Committee recommendations, legal actions against the former Independent National Electoral Commission (INEC), Professor Maurice Iwu and appropriate actions against the former Military Head of State, General Ibrahim Badamasi Babangida for cancelling the June 12, 1993 presidential elections.

The progressives, student leaders and family members of the fallen heroes of Nigeria's democratic struggle and transition across socio-political divides also added voices to the calls that Chief Abiola should be immortalized, Babangida prosecuted and Iwu be investigated for various electoral frauds that characterized the 2007 elections.

Representatives largely from the Conference of Nigeria Political Parties (CNPP), June 12 Coalition, National Conscience Party (NCP), Afenifere Renewal Group (ARG), Odu'a People's Congress (OPC) and National Association of Nigerian Students (NANS) were giving out anti-IBB handbills and protesting IBB's presidential ambition.

A substantial number of activists held placards on which such inscriptions as "Keep fight for true democracy; we want democracy and not civil rule; all votes must count in 2011; one man one vote; IBB must go; reject IBB: the killer of hope 93; my vote is my power; June 12, People's Democracy Day and no democracy without true federalism".

Such political leaders too as Lagos State Governor Babatunde Raji Fashola (SAN), Senator Bola Tinubu, Speaker of the State House of Assembly, Rt. Hon. Adeyemi Ikuforiji and Coordinator of the Coalition of Democrats and Electoral Reforms (CODER), Chief Ayo Opadokun among others lent credence to the call for true electoral reforms.

At the anniversary, which June 12 Coalition organized in collaboration with the Office of Special Adviser on Political and Legislative Power, Lagos State, the discussants largely described Babangida's recent call that Bashorun Moshood Abiola should be immortalized as hypothetical, provocative and indeed a subtle admission of guilt.

No fewer than 40 pro-credible election groups represented at the anniversary demanded for a new voters' register, describing the existing one as a template for perpetuating electoral frauds and an arrangement by its authors (apparently referring to former President Olusegun Obasanjo and Professor Maurice Iwu) to disfranchise Nigerians.

In different parts of Lagos metropolis, memorial rallies were held in honour of Chief M.K.O. Abiola. At the Ikeja home of Abiola, for instance, the progressives led by Professor Pat Utomi also held a memorial rally, calling for credible election in 2011 and the need for the federal government to immortalize the winner of the June 12, 1993 presidential election.

Also at Agbidingbi, Odu'a People's Congress (OPC) led by Chief Gani Adams and Civil Liberties Organisation (CLO) spearheaded by Dr. Joe-Odumakin held a successful memorial anniversary event while Comrade Joseph Eva, Leader of the Ijaw Monitoring Group (IMG) gathered at National Theatre in honour of Chief M.K.O. Abiola.

At Lagos Airport Hotel, Opadokun, whose position was adopted by the gathering, called for a digitalized voters' register containing the biometric features such as voters' photographs and fingerprints, stating that the existing one "contains gross deficiencies" that would institutionalize rigging and other electoral frauds if relied upon.

He also urged the people of Nigeria to reject "any arrangement other than a freshly produced digitalized voters' register and that no sitting executive should appoint the electoral umpire in which the sitting ruler is a contestant or his party is contesting.

"The civil society groups should resume open, deliberate and intensify campaign to educate and mobilize the electorate to accept that it is a national and civic duty to be registered and to vote in future elections; that Nigerians henceforth must protect their votes and insist on modified open secret ballot system for future voting," he said.

Opadokun called on President Goodluck Jonathan to pronounce "Bashorun M.K.O. Abiola, the winner of the June 12 presidential election as president and establish a major monument in his honour.

The federal government must take decidedly take appropriate constitutional steps to officially pronounce Abiola as President."

On Babangida's calls for Abiola's immortalization, Opadokun said the call "is hypothetical and represents a subtle admission of guilt; but perhaps it is more to facilitate Babangida's provocative attempt to contest for presidency" in the 2011 General Elections.

In his contribution, Tinubu called on the appropriate government institution to investigate and prosecute the former INEC chairman, Professor Maurice Iwu for various electoral malpractices that characterized the 2007 General Elections while he described the annulment of the June 12 presidential election as a national flaw.

He stressed the need for the current voters register "to be thrown to the trash. It is a lie. It is fake, fraudulent and must be rejected in its entirety. Go to your ward and ask them to bring electronic voters register if you can identify unit by unit. It is not identifiable at all because they (INEC) stole the software from the developer.

"INEC under the leadership of Iwu pirated and are going about using Economic and Financial Crimes Commission (EFCC) to investigate few people. The federal government should go and investigate Iwu now. Why did he give us the fraud called voters register and that register software was cloned from the developer," the former governor explained.

While addressing at the venue, Fashola said even though the June 12 election was annulled, all "was not lost. Although the announcements of the results of the elections were not concluded, hope did not evaporate. M.K.O's campaign mantra, "Hope 93" was kept alive.

Fashola recounted how the streets of Lagos became "battlegrounds; blood was shed; lives lost; martyrs slain and from there emerged the victory of the people's mandate over totalitarian authority in the 1999 elections that produced Senator Bola Ahmed Tinubu."