Godwin Cornelius Udagbor Emerges A Strong Contender in the DustyManuscript Contest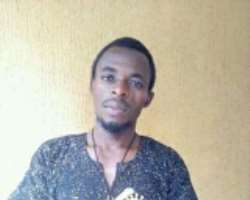 A bright and ardent young Nigerian Writer, Godwin Cornelius Udagbor has indeed proved his worth in the field of pen as he shines in the first ever Dusty Manuscript Contest 2018 with his mind-flaring manuscript titled Cry Of The Forest.
This was made known in a recent release by the organizers of the mouth-watering contest as they unveiled a shortlist of 20, plus other 5, making it top 25 out of over 1000 thousand entries received from budding writers across the nation.
Sequel to that, Godwin has received a congratulatory message from Mr. Magnus, a top management personnel at the Okada Books Publishers ( www.okadabooks.com) expressing the kin interest of the highly prestigious Publishing Company in signing a publishing deal with him for the manuscript.
This indeed presented him as a pen giant, even as he registered a sense of advancement, promised to work with the publishing house, and also avowed to pen further, as his best is yet to surface.
Godwin Udagbor started his writing career back then in his University days which earned him the highly contended opportunity to serve as a PRO to the Federation of Catholic Medical and Dental Students(FECAMDS).
In 2010, he received a diplomatic certificate from World Bank for International Essay Competition.
Godwin has published 13 articles about critical issues bordering on the affairs of the country.
His debut novel, "Bena's Dream Comes True" was published in 2014, and was indeed a worthy contender at the 2015 NLNG prize.
As a fast rising author, Godwin has helped upcoming writers in a plethora of ways, to find their feet in the literary field. Some of his mentees, Omeiza, the author of "Cry of An Orphan" and Queen Easter Ashim, the author of "Friends Forever" stand out as quintessential testimonies of his mentorship, as some of their books are currently used as literary texts in all schools in the Federal Capital Territory, Abuja.
Godwin is a member of over 40 literary organizations online.
This reigning manuscript "CRY OF THE FOREST" has also received accolades from writers and Professors in the US, KENYA and India, among whom is the renowned Prof. Sahjahan Ali Ahmed of English Language Department, Barpeta Girls' College, India.
His page Godwin Udagbor Author is fast growing as writers across the world share ideas through it to one another.
Godwin Cornlius Udagbor has two unpublished manuscript he is currently working on -- "Legacy Of A Good Father" and "The Accidental Biochemist" which would soon be published.
Currently, he is the coordinator, Society of Young Nigerian Writers(SYNW) Abuja Chapter.