That Maitama's advice to Buhari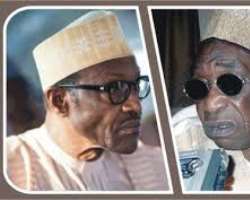 Late Maitama Yusuf Sule was, indeed, a great Nigerian nationalistic compatriot. A two-time minister of the Federal Republic and former Nigerian Permanent Representative to the United Nations, he led a powerful delegation of the Northern Leaders to visit President Buhari when he won the 2015 general elections. I have watched the video more than once his passionate and altruistic advice to Buhari, an advice no one can given a leader than the lover of the leader and the led. One can feel the passion from his voice, from his divine quotations and from his composure. Two simple but very tasking words that were the onus of the frank counsel were "justice and fairness" to all Nigerians.
Definitely, Sule was proud of Buhari as a good patriot who possesses all the leadership qualities to rescue Nigeria. He praised Buhari for distinguishing himself in the service of the nation during the military junta when force was the system of governance. Yet, he expressed optimism that he can deliver in a democratic setup. "It is the same Buhari that gave Nigeria a sense of direction when he was a military leader, this time around I'm sure Allah has brought him to correct the ills of the past, to reform," he boasted. Yes, the multifaceted problems that Buhari inherited from May 29, 2015. Yes, Buhari was brought by Allah to redirect Nigerians and pull her citizens from the dungeon of indirection, lustful looting and ultimate wickedness in the nation's governance.
"But it was easy when you were there as a military leader, but what made it easy, justice. With justice you can rule Nigeria well, justice is the key, if you do justice to all and sundry, and I say all and sundry because Allah says: "If you are going to judge between two people, do justice irrespective of the tribe, religion or even political inclination. Justice must be done to whosoever deserves it." Nothing can be the bare truth than this. Military leaders are mostly known for harshness and inhumanity. The history of Nigeria under military leaderships recorded the same pattern of perfidy to the citizens and grandeur in personal aggrandizement. Buahri, Sule exploded, had a unique style by taming the fiery military spirit with humility and humanity. Now under a democratic atmosphere, has Buhari heeded these words?
It was a very big task Sule bequeathed Buhari. I pray God bless Sule and grant him Paradise. Ameen. I wish that Buhari should continue to revisit these few words of a man who loved him and loved Nigeria like himself. On this note, I want to undertake a task of diagnosing how Buhari has been able to comply with these words of wisdom. Buhari has run a democratic government of Nigeria for three years a few months now. Has he displayed justice and fairness to all Nigerians irrespective of "tribe, religion and political inclination" as expected? The duo of justice and fairness in governance merely relate to the distribution of federal projects and equity in the utilization of the human resources. Simply put, it is appointments into federal positions and equal infrastructural development in all parts of Nigeria. The answer to the question is simply troublesome, depending on individual perceptions and the reality. I would like to take Buhari's treatment to Nigerians from the three aspects that Sule anchored his message on: tribal, religious and political.
From the tribal line, Buhari has tried his best. I must confess that there are allegations that he has favoured his kinsmen more than any other in the country. These are claims, most especially from the opposition party and those who are disgruntled about his focused leadership style and performance. The constitution recognizes the command of national loyalty in Government or in any of its agencies. Above all, for any hero to succeed in his conquest, he must work with the people he knows very well. That is the first factor for success. But because Buhari is a detribalized patriot, he allowed his government to be run by the opposition, hence the failure in some areas that should have been transformed better within his three years and few months in the federal leadership. This has never happened before in the history of Nigeria. Despite the fact that his party men have strongly agitated for the change in the leaderships of federal government's agencies and parastatals, Buhari had allowed the opposition to be in his government. Maybe he wished they could be reformed. But alas, now that the members of the nPDP are returning to their old house, the lesson may have been learnt. Yet, some citizens cry foul and claim his partiality.
From the religious line, it is not yet Uhuru. Claims and counterclaims of marginalization are pushed forward by the leaderships of the two main religions in Nigeria: Islam and Christianity. The Christian Association of Nigeria (CAN) and its allies have continued to make proclamations of lopsidedness in Buhari's appointments. The Supreme Council for Shari'ah in Nigeria (SCSN) and its sister bodies hold the same notion that Muslims are sidelined in federal appointment. In one of my articles, I wondered if it were non-Muslims and non-Christians running the Buhari government. But a critical analysis in this regard shows that Buhari has been fair to all except the Muslim minority of the Southeast and Southsouth.
In Buhari government, there are Christians of the North, South, East and West. There are also Muslims of the North and West. But there is no single Muslim from the East and South. I bet to be corrected. This analysis means that Buhari is yet to display justice and fairness to the Muslims of the two regions where they are in minority and abject degradation. Some appointments have been based on special considerations, not even party loyalty. Why is the case of the minority Muslims of Nigeria always different? Buhari should take into cognizance that any single denied citizen of Nigeria is his responsibility to recognize the person, irrespective of the clamour. Allah command fairness and justice upon leaders for all their subjects. Those who are in comfort zone should realize that complacence is a dangerous weapon to development. Every part of Nigeria deserves representation in the federal government which is a trust on him.
From the political line, Buhari has been exceptional. I take joy in repeating that it has never happened before in the history of Nigeria that a government retains over 80 percent of its key workforce from the opposition party. Though the effects are being felt, no one could tolerate that than Buhari. But that is a new political style for the new generation politicians to learn. There should be magnanimity in Nigerian politics. Winners should always consider the losers as patriots and give them ample opportunities to contribute to the development of the society from within the leadership positions.
Maitama Sule, on the other hand, ap­pealed to Nigerians to be patient with Buhari administration. At a town hall meet­ing, organized by the Federal Ministry of Information in conjunction with the Kano State government and attended by the Minster of Information, Ahaji Lai Mohammed, the Minister of Interior, General Abdul­raham Bello Dambazzau, Minister of state for Trade and Investment, Hajia Aisha Abubakar, Minster of Water Resources, Alhaji Suleiman Adamu and Minister of state, Budget and Planning, Hajia Zainab , amongst others, Sule described Buhari as an upright leader who has the interest of Nigerians at heart. He said Buhari is honest, transparent and committed to manage the economy of Nigeria for the good of all the citizens.
He, however, lamented present social economic challenges facing Nigeria, but lauded Buhari on winning the war against insecurity, war against corruption, improving the image of Nigeria before the world, focus on agriculture and the development of the solid minerals to diversify the economy. He charged the governors of the North to "dust-up" the blueprint of Sir Ahmadu Bello on agriculture in an attempt to develop an ever green Northern Nigeria which he believed can solve the nation's food crisis and by extension solve most of the nation's problems.
Muhammad Ajah is an advocate of humanity, peace and good governance in Abuja. E-mail [email protected]co.uk.