EkweNche Research Institute/Organization organizes a Symposium Of People Of Eastern Nigeria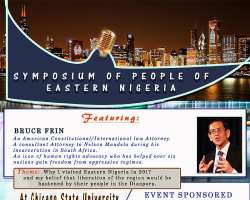 Ekwenche is a 501(c)(3) organization and a research institute operational since 1996, it focuses on human rights abuses. We work with many other organizations to seek equity and help bring to justice agents of governments who have engaged in torturing and victimization of their own people.
Presently Ekwenche is engaged in services to the marginalized by supporting them in their agonizing moments and advocating for justice on their behalf. She is also fighting the cause of the downtrodden/individuals who have been killed and or intimidated beyond measure by government agents especially, in Nigeria.
Ekwenche as a research institute,has successfully located Igbo landing site in savanna Georgia where 13 IGBO men paid the ultimatesacrifice for freedom in opposition to slavery in the United States of America. Ekwenche is actively seeking to locate and sanctify all other IGBO landing sites in the New World. She is also conducting a research to ascertain and facilitate accurate dissemination of information to be used to actively stop all forms and acts of genocide perpetrated against God's people worldwide. Ekwenche in 2003 published a book on Biafra genocide tiled "BIAFRA GENOCIDE".
Also in 2002, Okpara ezeNri, through Ekwenche initiative came to America, andconducted sanctification and burial ceremony for those who died in the new world fighting for freedom in accordance to IGBO tradition. In 2000 Ekwenche gathered and submitted on behalf of NDI IGBO through "OHA NA EZE" material documents used for OPUTA panel. In 2004, Ekwenche also gathered and summitted verifiable evidence of human right and economic violation against the IGBOs and people of eastern Region of Nigeria to the united Nation.
Ekwenche also believes that the joy of life goes beyond our immediate comfort of good food, good family, fancy car and good paying job; it must include seeking justice, standing up for the oppressed, righting the wrongs of the society, giving towards a goal and sacrificing for a cause that benefits others.
The work and services Ekwenche is committed to are huge and your generosity and support in these godly acts will be highly appreciated. Again, all contributions to Ekwenche is tax deductible. God bless you immensely. Remember, "The only thing necessary for the evil to triumph is for good men to remain silent and do nothing ".
Thank you.
Maazi L. Nwannunu (7732941997)
Chair Genocide Legal Committee
Ekwe Nche Organization