Nupeng Suspends Strike In Akwa Ibom State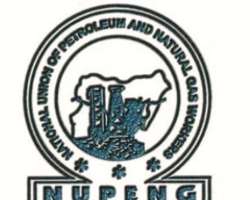 The National leadership of Nigeria Union of Petroleum and Natural Gas Workers (NUPENG) formally announced the suspension of industrial action embarked upon by the Union in Akwa-Ibom State.
This suspension of industrial action followed interventions of the Director-General of Department of State Security Services, Mallam Lawal Musa Daura; Group Managing Director of the Nigerian National Petroleum Corporation (NNPC), Dr. Maikanti Baru; and Chairman House of Representatives Committee on Petroleum Resources Downstream, Hon. Joseph Akinlaja who in their different capacities made genuine commitments to resolving all lingering issues between the Union and the managements of Universal Energy Nigeria Limited as well as Frontier Nigeria Limited, where Akwa Ibom State Government has stakes.
We are using this opportunity to direct all our members to resume back to their respective duty posts and ensure that all suspended services in the course of the industrial action are returned back to normalcy in the overall interest of the country.
NUPENG is however using this avenue to reach out to stakeholders concerned in this matter especially Akwa-Ibom State Government to take the advantage of this window and accordingly find means to make the companies involved to toe the line of decency and best practices by implementing agreements and communiqué they willingly entered into with the Union to avoid going through this similar unhealthy route again and for the sustenance of industrial peace and harmony.
NUPENG as a brand is a stickler to agreement and will not condone management refusing to honour agreements willingly and mutually entered into with the Union. Such refusal to honour agreement ridicules and make nonsense of genuine efforts put into brokering such agreement by genuine stakeholders. We remain resolute in promoting, defending and protecting our member's rights in agreement with extant rules and civilized conventions, we are equally open to work with all stakeholders that respect agreements and make their words their bond for the enthronement of productivity and favourable growth of the cherished oil and gas industry.
SIGNED:
COMRADE WILLIAMS AKPOREHA,
NUPENG NATIONAL PRESIDENT.