Dangote sets 2020 timeline for acquisition of Arsenal FC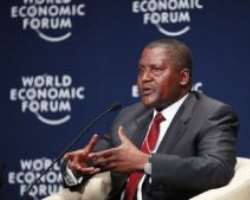 Aliko Dangote, Africa's richest man, has put a 2020 timeline on his goal of buying Arsenal, following a report that Alisher Usmanov is exploring a sale of his 30 percent stake.
The Financial Times reported on Tuesday , citing sources close to the Russian billionaire, that Usmanov has grown frustrated that the club's majority owner, Stan Kroenke, is unwilling to engage in takeover talks and has given up all hope of acquiring the club outright.
And asked about the report later in the day, Dangote, who has held an interest in buying Arsenal since at least 2010, confirmed he would pursue a takeover in two years.
"We will go after Arsenal from 2020 … even if somebody buys, we will still go after it," Dangote told Reuters.
Dangote added that the need for healthy cash flow until completion of his oil refinery project rules out a move for Arsenal before then.
Usmanov had previously  made a $1.3 billion offer to buy out Kroenke , but KSE (Kroenke Sports & Entertainment) UK Inc said its shares in the Premier League club were not for sale.
Last year, Dangote said he thought Kroenke would budge for the right price.
"If they get the right offer, I'm sure they would walk away," he said. "Someone will give them an offer that will make them seriously consider walking away. And when we finish the refinery, I think we will be in a position to do that." A representative for Usmanov declined to comment. Arsenal were not immediately available to comment.
Russia's so-called oligarchs who have relocated to London could be under threat as there have been calls to deny them access to their London lifestyles following the poisoning of former Russian double agent Sergei Skripal in Britain.
Usmanov and Chelsea owner Roman Abramovich are the most prominent among the Russian elite living in London.
Arsenal finished a disappointing sixth last season and missed out on a Champions League qualifying spot, with Arsene Wenger leaving after almost 22 years at the club. The Gunners appointed former Paris Saint-Germain coach Unai Emery as their new manager.
Meanwhile,  Il Sole 24 Ore have reported  that Milan are keen on appointing Ivan Gazidis as their new general manager.
Italy's largest business newspaper claims that the Arsenal chief executive is the number one candidate the Italian club's new owners, the Elliott Management group, are considering for the role after dismissing Marco Fassone at the weekend.