55 Hearty Cheers To David Nweze Umahi:
Nigeria's Certified Anti-Corruption Commander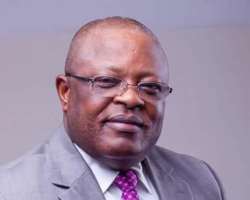 On 25th July 1963, the population of the family of Osuji Joseph Umahi and Mrs. Margaret Umahi increased by one. The incident was the birth of a baby boy who was later named and known as David into the Umahi Nweze dynasty of the pastoral community Umunaga Uburu in Ohaozara Local Government Area of Ebonyi state. He grew up under the tutelage of his disciplinarian parents until he got to school age. Little David Umahi's educational career began from Umunaga Primary School, Uburu in 1971, spanned through Ishiagu High School, Government College Afikpo to the Faculty of Engineering, Anambra State University of Science and Technology, [now Unizik] Awka where he graduated with a Bachelor of Science degree as a civil engineer in 1987. Bringing with innocence, courage and energy in a manner reminiscent of the David of the Bible, David Umahi began to manifest the qualities of a leader of noble men and women and defender of the downtrodden in his school days held leadership position as faculty representative in in the Senate of Anambra State University of Science and Technology, Awka.
Upon graduation, Engr. David Nweze Umahi worked in some blue-chip engineering companies for some time before venturing into private practice. He Incorporated Brass Engineering and Construction Company Ltd, Fucus Investment Nig. Ltd and (later) Osborne La Palm Royal Resort Ltd. with respective interests in civil engineering/oil and gas, investments and hospitality. Through diligence and prudent management, Brass Engineering and Construction Company Ltd and her sister companies became reference points for excellence as well as generators of gainful employment for teeming​ Nigerians and other people from the four ends of the world. Through his foundation, Engr. Umahi as a private citizen made gargantuan investments in the society that made him, and in mankind in general through educational scholarships to indigent but gifted students, funding of free medicare for the poor, distribution​ of financial aids and start-up capitals for small-scale​ entrepreneurs, sundry empowerments and community development projects.
Engr. David Nweze Umahi's interest in politics began in 1998 when he mobilized support for his kinsman who contested Ebonyi gubernatorial election in 1999. At the end of the election which his kinsman did not win, patriotic Umahi supported the administration of Dr. Sam Egwu who won that election. Akubaroha, as Engr. David Nweze Umahi is fondly called by his teeming admirers, later joined the ruling Peoples Democratic Party. In 2007, charismatic Umahi was appointed caretaker chairman of Ebonyi state chapter of PDP and given the unenviable assignment of re-organizing and uniting the comatose and highly-fragmented state chapter of the PDP. Within months, Engr.Umahi united the Umahi united the party into a formidable one. This demonstration of wisdom, good faith and diligence set Engr. David Nweze Umahi on a trajectory of a political career which limit is yet to be fathomed.
The reward for a good work, they say, is more work; hence Chief David Nweze Umahi was elected as the substantive PDP chairman of Ebonyi state in the 2008 PDP congress. Umahi unleashed his unlimited courage and leadership ingenuity on the administration of PDP, transforming the party into a virile political platform with focus on eternity. Hence, the construction of a first-of-its-kind monumental edifice as permanent secretariat of Ebonyi state chapter of the PDP. Apart from the cohesion and membership growth of the party, Engr. David Nweze Umahi effectively stood in the gap between the state government and the party members, ensuring that the party faithful benefitted from government programmes. In the build-up to the 2011 general elections, it became imperative that the PDP Guber ticket required the direct involvement of the door-opening imprimatur of Engr. David Nweze Umahi who had become a personification of political resource centre to succeed. Umahi was promptly drafted into the 2011 Ebonyi gubernatorial race on the PDP joint ticket as the deputy governoship candidate. That the 2011 Ebonyi gubernatorial election was won mainly through the efforts of Engr. David Nweze Umahi was attested to by both the winners and the losers in that election!
As the Deputy Governor of Ebonyi state, Chief David Nweze Umahi continued to make fresh in-roads into the hearts of Ebonyi people through official and private commitments to the common good and the welfare of​ the downtrodden. By 2014, His Excellency, Engr. David Nweze Umahi had graduated from a political resource centre to a political movement. When the Goliaths of Ebonyi state threatened Umahi's constitutional and equitable rights to offer himself as Governor, he proved that he was David indeed by conquering all the Goliaths and the odds they stacked between him and the call to serve . On 29th May, 2015, Engr. David Nweze Umahi was sworn​ as the third civilian governor of Ebonyi state at a time the country was witnessing the worst economic recession. While other state administrations drifted under the most inclement economic recession, Governor David Nweze Umahi demonstrated that recession was a catalyst for prosperity by building high profile projects like rigid pavement roads, three overhead bridges street lights, a virology centre at Federal Teaching Hospital Abakaliki et cetera. Governor Umahi equally took developmental projects to the gentile and forgotten areas of Ebonyi state like Onueke, Nwofe, Afikpo, and Effium which had not seen meaningful government projects for decades. The result of these is that within Abakaliki municipality and even in the hinterlands, Ebonyi roads testify that Governor Umahi sought political power in order to do good to Ebonyi people.
To protect Ebonyi people from the impacts of the economic recession, Umahi put himself in the masses' shoes and rolled out empowerment programmes which highlights included the involvement of over 631 youths and women in governance as Senior Technical Assistants, Technical Assistants, and ward liaison officers; empowerment of about 140 Traditional Rulers with brand new jeeps; empowerment of over 400 Ebonyi youths with tricycles and empowerment of over 20,000 Ebonyians especially women/widows with business capitals ranging from one hundred thousand times to one million naira. Umahi did not stop there, at a time when civil servants in Edo, Imo, Ondo, and Benue workers are owed salaries for periods running into one year while their Kogi counterparts​ hang themselves daily out of frustration due to unpaid salaries, Umahi​ ensures prompt payment of Ebonyi workers' salaries as well as mega-bonuses known as 13th month salaries in Ebonyi labour parlance; the agricultural revolution which upgraded farming into a profitable venture and made Ebonyi rice an international brand and so on. Unlike previous administrations which sowed seeds of discord among communities in Ebonyi state, Apostle David Nweze Umahi has demonstrated that governance is an instrument of peace by reconciling the Ezillo and Ezza-Ezillo communities, granting Ameze and Izzo communities autonomous status, reconciling all other warring communities and making peace a watch-word. With the establishment of Ebonyi state Neighborhood Watch and the provision of logistic support to formal security agencies, Umahi has consigned ensured security of lives and property and consigned security challenges to our ugly past. Umahi went further to release the sum ten million naira to each of the 140 communities in Ebonyi state in Ebonyi state to enable embark on special projects which form their respective peculiar needs.
For all​ these and more, Governor David Nweze Umahi, a desperate believer in God, a deacon in the vineyard of our Lord Jesus Christ and a husband of one wife, has won many garlands of honour including Ebonyi Statesman of the Year, Ikenga Ezza Ezekuna, Eze Chinyeru of Ebonyi state, Zik Price for Good Governance among others. The story of David Umahi is a study of the aphorism that 'time changes all thing's. In a space of 55 years, David Nweze Umahi has metamorphosed from the country boy of Uburu into a man of means, a political juggernaut, a crowd-puller in his home state of Ebonyi and beyond, a human phenomenon of sorts and the generalissimo of Ebonyi politics. Governor Umahi who has rightly been described as "a doer and achiever" by former President Olusegun Obasanjo; known as the "Roadmaster" by Ebonyi people and officially pronounced as the "Anti-corruption Commander" by ICPC is widely celebrated​ in Ebonyi, Nigeria and beyond as an excellent manager of public trust and an apostle of good governance. These have made this diligent and humble Uburu man the pride of his people, the envy of his adversaries and a prized political asset coveted by major political parties in Nigeria. Umahi is happily married to the love of his life, Her Excellency, Deaconess Rachael Ogonna Umahi (Ugo Chukwu Tuberu), and the union is blessed with vibrant children.
As Governor David NwezeUmahi marks his 55th birth anniversary, one cannot help joining Ebonyians - the people of honour and integrity - to wish their leader who has dates with destiny happy birthday. Certainly, Apostle David Nweze Umahi's best is yet to come!
Disclaimer:

"The views/contents expressed in this article are the sole responsibility of the author(s) and do not necessarily reflect those of The Nigerian Voice. The Nigerian Voice will not be responsible or liable for any inaccurate or incorrect statements contained in this article."