A Twist to Cultural Festivals in Africa: Ita-Osun Festival, 2018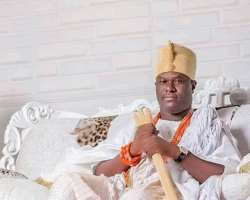 The euphoria at the palace of Ooni was without bound as we approached the inner chamber of H.I.M Ooni Adeyeye Enitan Babatunde Ogunwusi who was preoccupied with given instructions to some of the members of the Ita-Osun planning committee.
The first point entrance of the Ile-Oodua, the residence of H.I.M is adorned with a lovely big-sized banner of the festival with a superlative picture of the first class monarch with a suitably worded inscription wishing Kabiyesi and the entire people of Ile-Ife well on the occasion. The inscription is as follows:
Here's wishing the entire citizenry of Ile-Ife; The Ooni of Ife Chiefs in Council and my adorable king; the first among equals, Oloro Alade Gbogbo, Alaka Omo Apaara, Alase Orisa, the projenitor of the black race, Arole Oodua, Baba mi Oonirisa……. the very best of the Ita-Osun festival.
May the love, beauty and fruitfulness of Osun Shegese continue to radiate in the life of Oonirisa……Ase!!!
Osun abo to rere legan, awuraolu; a we ide, we orisa ki o to we omo a gbewa o…….Ase!!!
Coming into the second gate, we were welcomed by security operatives of the Federal Republic of Nigeria, as well as local security agents who signed us in. Again, we were met with a massive poster of the Ita-Osun festival but this time around without the picture of H.I.M but a background picture of the Osun goddess as well as pictures of Osun Oniyangi which shall be discussed in the course of this write-up. Also inscribed on the banner is the praise song of the Osun goddess which reads as follows:
Ore Yeye Osun ooooooo
Ota ………………….oooooo
Eri…………………..ooooooo
Agba………………..oooooo
Edan………………ooooooo
Omi………………oooooooo
Ore Yeye Osun ……………
Awuraolu
Yeye Kaare
Abo to rere legan
Oshun Shegese oloya iyun
Awe'de we'risha
Awe'de koto w'omo
Yeye Ijesha
Obirin gbona, okunrin sa
Omi ko l'apa
Omi ko l'ese
Oun won yanri tututu
Osun a gbe wa o
Osun ase amona wa o
Asee!!!

Shortly after we gained access at the second gate, we were introduced to a gorgeous young lady whom we found to be highly educated, cultured and hospitable. She is the lady in charge of coordinating the affairs of the Ita-Osun Festival; tho of Yoruba origin, the learned lady had flown in from the Republic of Ireland to see that Ita-Osun festival meets the expected international standard of the respected monarch. She is Gbemisola Bisi-Taiwo PhD at Law. She explained to us that "Baba had just returned from a trip" and she would help facilitate our meeting with the prestigious monarch once he is set to meet his guests.
However, we took a swipe off the fair lady who gave us first-hand information as to the preparation towards Ita-Osun festival and what is expected at the 3 days event. We gathered that the first day will be commencing with a gathering of the Osun worshippers to be led by the Olori Osun of Ife, Aworele Osunjoke at a goddess themed gathering for the children which implies fruitfulness, one of the feature of the river goddess.
A grand opening ceremony shall be held in the evening at the Afeworan Park; where an array of musicians and cultural performances will be staged tonight. She noted that, asides from private individuals who will be performing, State government troops from South-West, Nigeria shall be on display.
Gbemisola Taiwo said the main worship event, where Kabiyesi shall lead multitude of people of faith as well as indigenes and guests to the Osun temple is tomorrow, 21st July but she cannot be time specific as only Kabiyesi has such prerogative as he is led by the spirit. It is going to be a cultural display of culture from troops from all Yoruba speaking states of Nigeria.
The following day, 22ndJuly is tagged a love feast, as love is one of the characteristics of the Osun goddess. At this event, all visiting artiste shall perform. She exclaimed that, the closing event shall be power packed; with loads of love to share both in kind, cash and ideas.
We inquired for an estimate cost for the event and if there had been much support and setback if any: the coordinator stated that as far as she knows Kabiyesi had put in nothing less than Five million naira and still spending. He looked after clothing for the children, accommodation for most guests as well as their feeding. Some even demanded for fare and you know as culture demands, Oonirisa cannot turn his back on the material needs of his subjects.
As per support, little or nothing but personally, I got support from genuine friends and our cooperative team who took up responsibilities on my behalf even while I was not available in the country; they stormed the social media space to publicise the event and lots more. The best support I ever got is from the man with the leadership mantle, H.I.M Ooni Adeyeye Babatunde Ogunwusi for always believing in my capabilities, in the face of all odds. Kabiyesi is full of wisdom and he sees beyond the physical. He is what he preaches; unity, love, faithfulness and God fearing, no-eye service! I hope all the people around him would emulate his good gestures, they should be broadminded and encourage people supporting kabiyesi's cause especially when it benefits the Oduduwa race.
One could stay a whole day with our fair lady here; so welcoming, all chatty in perfect diction…… no wonder, she's a lawyer. But we ain't going to let her steal the show so we must proceed to the the owner of the show himself; The Arole Oodua.
I must confess, H.I.M Ooni Oguwunsi is a master piece from God. What a humble, cheerful, youthful, highly intelligent, forthright king. Our generation must have done something right to deserve this Solomon of our time! Sincerely, I am awed! I'm short of adjectives but I can assure you that, he is rare-bred, a gentle giant, absolutely royal….. I salute you our king.
Adorned in all white attire; welcoming with infectious smile, we cannot but prostrate and chant Kabiyesi oooooo! Flagged by the efficient Emeses, who will not let a fly on Baba. Beautiful Yoruba culture in display……… Oba n ki o!!!
Straight to the business, all we want to know from Baba at this stage is the significance of Ita-Osun/ Osun Oniyangi festival? Find below, the intriguing details:
"When Osun Oniyangi relocated to planet Earth, she landed in Ita-Osun, Ile-Ife. Hence, the Ita-Osun became the source of all the living rivers in the world.

Osun Oniyangi is a wonderfully and fearfully made in the image of God. She is an Octopus shaped river. Osun Oniyangi like other human beings has sensory organs; such as eyes to see, nose and mouth, legs to walk and of course, yangi as its body.

Osun Oniyangi to date remains at Ita-Osun in Ile-Ife as the base of all other Osun rivers. Osun Oniyangi is mysterious; it changes colour like a chameleon. Sometimes she could be colour green and before you know it blue or brown and sometimes golden.

Osun Oniyangi has a potent healing power for any type of illness when it changes colour to agbo (herb). Osun Oniyangi also breeds fishes and reptiles which changes colour just like the river. The animals tend to change colour each time their habitat changes her colour.

Ita Osun is full of wonders and a place to visit; just like every other creature deserves to be celebrated, we are celebrating Osun Oniyangi"- Ooni Adeyeye Enitan Babatunde Ogunwusi.
Interesting stuff I call it, I couldn't have been in a better place at the moment than the palace of Alase Orisa, Ooni Ogunwusi (Ojaja II). The experience was worthwhile; however, it is time to have some rest now as we await the next fun-filled package at Ile-Oodua.
Lest I forget, I see a crew of health facilitators on ground and that is Vickie Robert Foundation, all the way from the United Kingdom. They are right on board for first aid and health check for the elderly…… what a brilliant concept by the organisers of Ita-Osun festival
Wow……. All these and many more await us; I will sure keep you posted as things unravel………….
Thank you Kabiyesi for the opportunity, Osun a gbe wa o………. Amin!!!