Police Nab Grema Terab in Maiduguri Whom It Declared Wanted ForAlleged Murder Case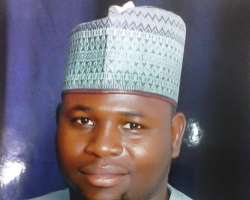 A politician and governorship aspirant in Borno State under the platform of PDP, Alhaji Grema Terrab, who was declared wanted by the police in April 2018 for his role in an alleged murder, of a political thug in his house premises during a political meeting of his supporters was on Tuesday arrested by SARS operatives at an event attended by former Vice President Atiku Abubakar.
Atiku Abubakar delivered a speech at the event held in Maiduguri, the Borno State capital on his presidential ambition in 2019 where he addressed PDP political faithfuls from Borno and Yobe states who converged at Fordham Town Hall to welcome the former Vice President.
Terab was wanted by the police for alleged complicity in a murder that occurred at his home while he was hosting a political meeting in April.
Though Terab was said to have reported the matter to the police by then but ran away and police arrested members of his family, including his wife.
His wife, Saadatu Muhammad who was at home together with his brothers and relations was arrested and detained for several weeks during which she lost her early pregnancy in detention.
She was however eventually released and given bail but contradictorily, Grema Terab her husband filed a suit against the Borno State Commissioner of Police, CP Damian Chukwu accusing him of illegally arresting his wife and detained her leading to her loosing her few months pregnancy during the detention.
Unfortunately for Terab, he suddenly resurfaced in Maiduguri and was seen on Tuesday for the first time since his 'disappearance' from Maiduguri in the midst of former Vice President Atiku Abubakar's entourage to Borno and Yobe on campaign mission. Early this morning in Maiduguri, his governorship campaign posters and bill boards littered Maiduguri city as his political boys and supporters stormed kano-Jos-Damboa-GRA-Polo-Circular roads in convoy with music and loud speakers singing and chanting political slogans against APC leadership and in favour of PDP in the state and country at large.
However, it was not surprising with intelligence available on his arrival, the SARS team and dozens of other plain cloth detectives (CIB) immediately stormed and surrounded the venue of the political meeting in search of Grema Terab and finally at the residence of Chokalin Adanawa at Maiduguri new GRA where the former Vice President Atiku went to rest and pray, the detectives instantly arrested Terabin in the presence of the former Vice President and other dignitaries, whisked him away under tight security and escort.
The Nigerian Voice reliably gathered that Terab was earlier warned in Abuja not to come to Maiduguri along with the former Vice President and subsequently was also informed of the presence of the security men and police officers at the premises of Chokalin Adamawa house who had taken strategic positions round the hall where Atiku Abubakar was addressing the converged politicians at residence of the host but to no avail.
However, younger brothers and associates of Grema Terab were seen vividly making concerted efforts to 'beg' some of the police officials not to carry out the arrest but to no unsuccess.
When Atiku Abubakar ended his speech and was exiting the hall, Terab tactically and quickly walked very close to the former Vice President in order to avert the arrest but the security operatives followed them to the host residence and finally dragged him away from the crowd in the presence of everybody there with no stress or resistance but in an orderly and organized manner.
But Terab was seen trying to call the attention of the former Vice President Atiku Abubakar by trying to hold on to Atiku's agwada or gown but Atiku Abubakar was systematically guided out of the hall by his security aides.
Journalists were prevented from taking photographs or filming the arrest as Grema was bundled into one of the SARS patrol vehicles and taken away.
The police are yet to issue official statement on his arrest as at the time of filing in the report but police commissioner of Borno state, CP Damian Chukwu confirmed his arrest on phone to The Nigerian Voice in Maiduguri.
End