Delta Commissioner Rake Over N3 Million Into State Treasury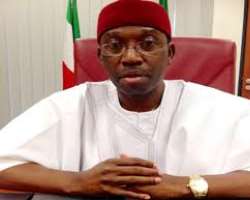 The Delta State government through the Directorate of Youth Development has generated the sum of N3, 702, 000 into the state coffers through registering of 293 voluntary organizations otherwise known as youth clubs.
These comprise of youth organizations and youth related Non-Governmental Organizations (NGOs) while a total 200 failed to renew their certificates.
The Commissioner in charge of the Directorate, Mr. Oghenekaro Ilolo, gave the disclosure Monday while taking his turn at the ongoing Ministerial Press Briefing on the activities of the ministry.
According to him, "the Directorate has ensured that there is no youth restiveness across the state. The directorate through the youth development zonal officers has been monitoring the activities of these youth organization with view of encouraging them to key into the present administration's SMART agenda of wealth creation through agriculture, skill acquisition and micro credit loan for small and medium scale businesses".
He said the directorate was able to sponsor three youths across the three senatorial districts of the state in a competitive screening exercise to the third Nigerian Youth Parliament.
Also speaking, the Commissioner of Power and Energy, Barr Newworld Safugha, hinted that the state government has undertaken a total of 83 energy projects since the governor assumed office at the cost of N3, 970, 903, 110.76.
Safugha, further revealed that to facilitate economic activities in the rural areas, the ministry through its parastatal; Rural Development Agency (RDA), executed over 32 projects with an estimated cost of N507, 025, 050.00.
On the power supply situation in the state capital, he said "following the connection of the installed 1X150MVA, 330/132/33KV substation and 2X60MVA, 132/33KVA power transformers to the existing 330KV Benin-Onitsha transmission line through the National Integration Power Project, there has been a noticeable improvement in the supply of electricity power to the capital territory and its environs".
He also disclosed that series of meetings have been held with the management of Benin Electricity Distribution Company (BEDC) and energy consumers to foster peaceful co-existence, "communities that were disconnected from the National grid by BEDC including Patani town, Olomoro Community, Ibusa town, Onitsha-Uku, Ogwashi-Uku, Illah, Ubulu-Uku, Kwale, Abbi, Bomadi and Udu, has led to the reconnection of some of these communities to the national grid and has also engendered peaceful and harmonious relationship".