Presidency mocks Fayose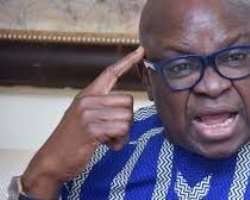 The Presidency has mocked the loss of Peoples' Democratic Party (PDP) in the Ekiti election, in which Kayode Fayemi of the All Progressives Congress (APC), polled 197,459 to defeat its candidate Kolapo Olusola who polled 178,121 votes, showing a gap of 19, 338.
It said the win has also transformed the political landscape of the South-West and strengthen APC's regional hold, adding that the party will be respected even better.
It also described Fayose as 'a street-type thug' that never fits the role of a gadfly as portrayed by the media because he thrives on bitter enmity.
According to the statement titled "Fayose: In The End, A High-Powered Nothing" by the Senior Special Assistant on Media and Publicity, Garba Shehu, said the people by their votes have rejected outgoing governor, Ayo Fayose, adding that President Muhammadu Buhari has won the referendum as declared by Fayose.
According to Shehu, "The people of the State have sent a clear message. The politics of brinksmanship, assaults, insults, abuses and Robin Hoodism disguised as stomach infrastructure has been rejected in favour of politics of inclusion, development, responsibility and good governance…."It has given a fresh hope that fake news, lies and propaganda run only short distances, because they have short legs.
"An old proverb says you can't beat something with nothing. After all the noise, theatricals and drama, Fayose's fall came with a thud, not a bang: a high-powered nothing."
From Sunday Sun/ News Express