Why Imo Chief Judge, Justice Paschal Nnadi Should Be Transparent-  group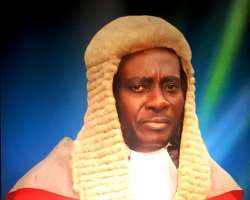 The Chief Judge of Imo State, Justice Paschal Nnadi has been called upon to remain transparent in the discharge of his duties, having maintained an undented image since he ventured into legal profession.
This call was made by a non-political group known as "Orlu Zone Forum of Professionals". Briefing newsmen shortly after their emergency meeting at Hotel De General Nwankpi, Orlu local government area of Imo State, the Leader of the group, Barr Chimezie Esomonu pointed out that following a rumoured pressure on Justice Nnadi by self induced politicians to be lured into doing their bidding towards ensuring that the embattled Deputy Governor of Imo State, Prince Eze Madumere was impeached at all cost, the group advised him not to soil his hard earned reputation for prosperity sake.
Barr Esomonu maintained that in as much as the Chief Judge is performing his constitutional duties, there is need for him to be transparent not be deceived by desperate politicians whose stock in trade were to use the purported impeachment move on Prince Madumere to rubbish his image, and called on him to use his position as the Chief Law Officer of the state to maintain peace.
According to Barr Esomonu, Orlu people have nothing to loose if the Deputy Governor, Eze Madumere is impeached, but due to inter-zonal altercations that would arise thereafter, the state may not be able to contain it having lost a former deputy Governor, Sir Jude Agbaso, an Owerri zone man to impeachment.
He said, "This is the time for everyone to leave politics alone and face reality, in as much as we commend our son and Governor, Owelle Rochas Okorocha for his giant strides in the state, we therefore condemn in its totality the role said to have been played by our son to impeach his Deputy that has served him for years. Our Forum therefore sees no moral and legal justification to continue with this suicidal mission. With no fear or favour, Owerri people have assisted Orlu Zone to arrive where we are today, and we see no reason to make ourselves enemies with Owerri people hence, we plead with our son, Owelle Okorocha, and the Chief Judge, Paschal Nnadi to discontinue with this move"
"While we advise our son not to do this to a man that suffered for him in life when he was never a Governor, we also call on the Chief Judge, Justice Nnadi not to join issues or accept to carry out another coup on his people of Owerri Zone, but if Justice Nnadi, an Owerri Zone man ignores our call and goes ahead to facilitate the impeachment of his brother, Orlu people will relax and continue to laugh at Owerri people who will be considered as enemies of themselves"
Furthering, Barr Esomonu also appealed to every warring group to shelve their sword for the peace and unity of the state, while praying God not to allow political interest to override the collective interests of Imo people for a better society.