Delta Government Approves Completion Of Asaba Airport Fence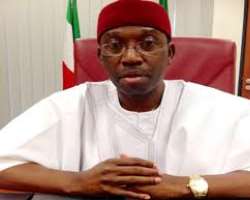 The Delta State Government has approved the completion of the perimeter fencing of Asaba International Airport.
Speaking during a ministerial press briefing held at the Ministry of Information conference hall, Asaba, the State Commissioner for Information, Ogbueshi Patrick Ukah, disclosed that the decision was one of those taken during the State Executive Council meeting held on Wednesday.
He said that the decision was made in order to strengthen security at the airport to ensure the maximum protection of lives and property.
Ogbueshi Ukah further disclosed that because of the respect the government has for traditional rulers in state, the EXCO approved the construction of a befitting secretariat for the State Traditional Rulers' Council in Asaba.
Also approved is the completion of Uzougba Link Road to Issele-Uku/Otulu Road, Ubulu-Okiti.
The Commissioner for Information revealed that in a bid to get the Uvwie Fish Feed Mill functioning optimally and create jobs for Deltans as well as create wealth, the State Government approved the concessioning of the Fish Feed Mill.