Apc Loses Moral Rights To Contest- - - Coalition Of Csos.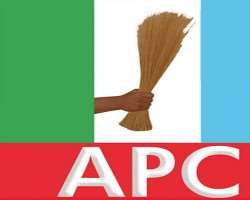 The All Progressive Congress Party, APC has lost the moral rights to contest any election in Nigeria. This is a fall out of an emergency meeting held by the Human &Environmental Rights Dynamic Advocacy Development Initiative and a Coalition of Civil Society Organizations in Ado Ekiti, capital of Ekiti State today.
The meeting was summoned to discuss the parlous State of the economy under the Buhari administration, the worsening security situation in parts of the country and the clandestine promotion of insecurity by some principal actors of the APC-led government.
HERDADI flayed Presudent Buhari's statement that restructuring is against his administration and attacked the APC leadership for intimidating the Fayose led government in Ekiti State, positing that tyranny is inimical to democracy.
Barr. Odion Igbafe, Mrs Janet Omotosho and Dr, John Idumange, in their separate remarks vowed to stop at nothing in suing the Federal Government on the arbitrary usurpation of the powers of the Nation Assembly, the expenditure of monies without appropriation and the total neglect of security in Benue, Borno, Yobe, Nassarawa, Taraba and Kogi States, especially the mayhem perpetrated by herdsmen-President Buhari's kinsmen.
The Coalition agreed that the APC has lost its legitimacy and moral rights to contest any election in Nigeria because of the poverty of leadership in Nigeria. In a communique signed at the end of the meeting, the Coalition listed names of past corrupt public office holders and promised to drag them to the Economic and Financial Crimes Commission, to curb corruption in the next dispensation. Omotosho remarked " we have blacklisted corrupt public office holders, who will answer charges at the EFCC. We shall collectively stop corrupt aspirants, irrespective of the platform upon which they are contesting". We need to inject some measure of sanity in the polity in the interest of good governance.
The Coalition will partake in monitoring the election and report the outcome to Amnesty International, the European Union, United Nations, the African Union and other world bodies that matter. The coalition will re-convene after the election.
Adekunle Segun
Reporting from Ado Ekiti