Agriculture can add over N5 billion monthly to Osun State's economy – Guber aspirant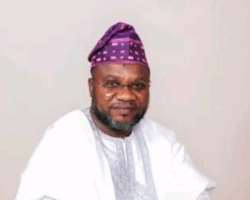 A leading gubernatorial aspirant in the forthcoming governorship elections in Osun State, 'Kunle Rasheed Adegoke, has disclosed that exploiting the rich agricultural potentials of the state, has the capacity to add over N5 billion to the Internally Generated Revenue (IGR) of the state of Osun.
Adegoke, popularly called K-Rad who said Osun State is blessed with vast arable land, however lamented the absence of scientific farming methods in the state and expressed the hope that his government, when elected, will harness resources and efforts to stimulate agricultural revolution by providing the support systems needed to scale agriculture in such a way as would make the state, not only self-sufficient on food production but also capable of feeding adjoining states and beyond while also exploring the export markets.
The Guber aspirant, highly favoured to emerge victorious at the re-scheduled July 17 primaries, according to a Statement made available in Oshogbo, capital of Osun State, expressed the urgent need to commence what he described as "programmatic actions" to deepen agricultural practices and promised to lead a team that will take into account the "agro-ecological specificities' obtained in the different zones of the state, to help foster domestic food production, sufficiency and stability."
"We shall collaborate with private investors to develop agricultural settlements in all the 9 Federal Constituencies in the State; and institutionalize aggressive and sustainable multi-stakeholder-based capacity to build value and facilitate the adoption of modern methods for food preservation to create massive wealth for the State and cut down heavily on post-harvest losses of seasonal food and fruit crops," he stated.
The renowned Lawyer also promised to spike the development of locally-adaptable food processing facilities by leveraging modern food and scale-sensitive processing methods to diversify the use of food products to reduce losses associated with perishable agro products, while motivating investments in storage and standardization that will open opportunities for exportation of foods.
"When we get the mandate of the people of Osun , our programme in the agricultural sector includes the creation of markets for agricultural products within and outside the State, especially in Lagos State to enable us tap into its huge daily food consumption needs that can generate a revenue of not less than N5 billion monthly for the State," he said.
He promised to run a government that will attract investments in agricultural activities by building enabling infrastructures to support livestock productions on a "Rent and Use basis, explaining that he will enhance the existing Osun Broilers Outgrowers Scheme (OBOS) by establishing Osun Industrial livestock farming that would multiply the production capacity to 15 million birds in a year.
"We are envisioning Osun State to become the largest producer of livestock in Nigeria within the first three years of our administration," he pledged, adding that factory-style, sustainable livestock production which is a critical driver of modern agricultural industrialization, forms the core plank in the vision of ensuring that the state takes the lead in the overall quest to ensure that Nigeria achieves food security and sufficiency in the shortest possible term.
On the management of forest resources, Adegoke said with Osun State having one of the largest natural forests in Nigeria, his administration, if elected, plans to explore and harness these enormous forest resources to the maximal benefits, by deploying the best policy framework, innovation, technology and inclusive growth.
"Our intervention shall be hinged on protecting and conserving the rich flora and fauna of these natural forests as we pursue a robust eco-tourism agenda. This industry, when combined with agriculture, will employ thousands of our youths," he said.