I Am Elected To Work, Not To Share Money; I want To Make A Difference As Chairman --- Osadebe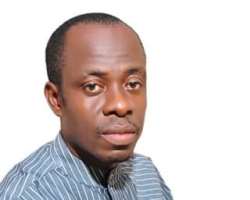 Chairman, Oshimili South local government, Comrade Uche Azuka-Osadebe
Chairman, Oshimili South local government council, Delta State, Comrade Uche Azuka-Osadebe, has roared at those who came to arm-twist him over the council's allocation.
Osadebe, in this exclusive interview with The Nigerian Voice Bureau Correspondent, Orusi Kenneth, he said that he meant a lot of decay in the system which he felt should be tackled headlong.
Excerpt:
Since you assumed office, what can you bit your chest that you have done?
Well, for us, we know definitely that we never meant any money on ground. When we got there, we saw a lot of decay in the system which we felt we should tackle headlong.
Headlong in the sense that, there was no money but the little ones that we have, we were able to use it judiciously. Like our first environmental sanitation was to go to illegal dump sites. There was one at Nwamu Street by Umoda, the one that blocked that street, we cleared it. We now went to Sanda, inside it, there is another big one, and we brought it down. That was our first environmental sanitation with little or no money.
Then, the second environmental sanitation, we did the same thing. The one at Iyase's village, in Umuaze, we were able to bring it down. It took us two days. And why are we doing it? Because we felt that cleanliness is next to Godliness.
Then again, we are aware of the diseases that are going on like the Lassa fever, God forbid Ebola, is what we are just hearing from DR Congo, so we don't want such things to come around our people because we know that health is wealth. You cannot have a healthy workforce, when you have things like that. And our people when they are sick, we are sick also because those are the people that voted for us, those are the person we are to protect and that is why I have to do all that.
Coupled with the fact that when we got to our council, with little or no money, we saw that in our council there was no light. They owe about N3 million as bill from BEDC. We were not able to clear all but we paid a little and we were able to reconnect ourselves back and we are consistently paying now. We are paying above what we use every month so that gradually we can reduce the one they owe and the one we have also paid from that.
Also, in our council, everywhere was bushy. We felt it is our right that if you must make our people to be happy, the environment where they are working must be clean. We have to clear most of the bushes and we have turned a particular one to a garden and that is what we have done there.
Then also when we got to office, it will surprise you to know that a council like Oshimili South does not have a toilet. When we got there, not that they don't have toilet but there is no water. So, what I first did was to connect light, make sure that the boreholes that were bad, they have stolen all the water pressure pumping machines (sumo). I used my personal money to buy about two water pressure pumping machines (sumos) to connect water. As I am talking to you now, water is flowing now and people are using the toilet.
Because I believe that women who are going to the bush for toilet, or going home, it therefore means that a lot of them could take excuses to say they are going to toilet; they might not come back to the office again. So, we have to take those proactive measures first to make sure that the environment is okay for them to work. In addition to that, we were able to fix the security lights because since the existence of Oshimili South, there have never been security light. If you go there now, you will see light everywhere.
They say December before we came in, they boggled the place twice. So, I felt I most first put all those things in place so that everywhere will be secured. You know our gates are bad, so I am already renovating them. They have done the one at the back and they are starting the one at the front tomorrow. By tomorrow, you will see them working there, they have finished the one at the back, it is just left for them to repaint it and I have asked them to lock it and not to open it. It is left for the one at the front; you know it is very bad.
Looking at our environment, we know that our environment is very dirty and the environment department is not helping us that is one thing I keep on saying. Sometimes, I get angry with these civil servants but sometimes they are also helpless because most of them are ageing already. So, what we did was to get a consultant which was introduced to us by Chief Ofuani, we are not paying them. They will do the work; they are the ones to pay us certain percentage.
What is their work? Looking after the cleanliness of our environment, that is, we have environmental marshals. We will be inaugurating them in the next one or two weeks. What is their work? Defaulters, we are going to have enlightenment campaign, they will enlighten our people. Don't throw waste anyhow; don't throw waste into the drainages.
Then those who are selling food where they are not authorize to stay, we have to clear all of them to make Asaba look like a capital that is supposed to be because this is my local government for God sake, I keep on telling people, I have no other local government order than this local government, if I don't do it, who will do it?
And I want to go beyond just Oshimili South. So, I must do this thing and that is the reason you see probably they say Osadebe does not listen to us. Listen to you to do what? To bring money for us to share when I don't even have? The little one I have is for us to work, you want me to share. It is not possible! I won't do that. I have told anybody if you feel I am guilty, go and report me to the governor and I will face it.
I am elected to work and I want to see that because I have been on the other side criticizing the government. I am an activist for God sake. I have been on the other side criticizing the government then I am given an opportunity, I mine not supposed to showcase myself? To tell them what I asked you people to do before that you couldn't do, I want to do now. That is what I am doing, as far as I am concern, I don't have any enemy except people are creating enmity for themselves.
What I know is that as a chairman of Oshimili South, I want to make a difference. I think as I am talking to you now, Oshimili South is the first local government in Delta State that is having a website. I have opened a website. I used my money, they have not paid me. You know the normal local government civil service dragging. I first gave them N650, I have told them to give me the history of the local government. I will pay it with my money, I can sacrifice anything for this local government, I don't need anybody to give it back to me.
Because I know with a website, we will link up with the outside world. The entire departments are going to have portal on the website. Sometimes, I imagine people coming from Lagos to come and collect letter of identification. Why? For just N1, 300? Why is it that we cannot do it? This is a digital world. We can do it and you interact with your councilor. There is a way you will interact with your council in the system, he approves it, and you pay. Our accounts will be there for you to pay and you can now print out where you are. Why must you come here?
If you want to do marriage, you can as well do it. After counseling, you go and pay and you print it out from the system. You don't need somebody by using papers, we have grown beyond that. That is why we felt we must change the system and that is the only way we can block some leakages.
Like now, I am planning on how to automate all our revenue bits in conjunction with an Agbor man that has the driving school, he has brought the proposal but I told him, we don't have money. He said he is going to do it then we can be paying gradually, I told him which is good. Automate it, we might not be able to get it this first year because of what we meant on ground but subsequently, the system will change. We have a lot of things we are going to do. I have to show them that I can do it better.
We are also reaching out to some of these persons who are operating within this Oshimili South for their CSR for them to also assist us. So far so good, with the little resources we are having, we are still managing but by God's grace, we will get there soon. Like I am planning to meet some development partners outside Nigeria, we have been reaching out to them but I think the easiest way is for us to have a website which is the best thing.
Because people are in the business of duping these foreigners. So, if you are going to discuss anything with them, you must have evidence that this is your local government when they open the portal and you are discussing health with them you should be able to show them your health centers and tell them this is what you want them to do for you.
If you want more health centers you tell them these ones that we have are not enough, you tell them to build more. These are the things we are planning on ground to make sure that we are able to alleviate the suffering of our people and possibly sometimes we are thinking of doing empowerment for our women and youths.
Especially the petty traders, we are thinking of giving them something so that by the time you add to what they already have, it will be something for them. They will even appreciate it more. Those are the little things we have been able to do and we are thinking of doing more as money comes in because ordinarily we have not given our revenue. We are about giving; it was yesterday that EXCO approved it.
So, by the time we start having revenue, of course, we will be able to do more, we will be able to utilize it to build on what we have done.
Those coming from across the Niger to collect identification letters and some of them who are already working in the ministries in Delta state, how do you intend to fish them out?
Well, you know when you are talking about ministry, I will not be involved because that is a state government affairs. Mine is that they cannot get letters of identification as far as I am here. Anybody that knows me should know that. I don't see how they are going to get it.
But we need to also educate our people because an Anambra person cannot collect letter of identification of Oshimili South if an Oshimili South person is not involved. Our people are always involved and that is why we are having all these problems because our people are involved. But for us, there is no way they can come and have Oshimili South identification letter when I am there. And I know the last administration also make sure that you cannot just have it anyhow.
We have caught three persons within the time we have entered now that wanted to collect, it was a councilor that caught them even before they came to me, the councilor was able to detect that they are not from Oshimili South because if they have come to me, I would have arrested them for forgery. Luckily, the councilor of Ward 4 was able to detect. They wanted to come through Ward 4, Umuezei, it was Nwokolo that detected and it was when we were discussing one day that he told me that two persons came but that he did not sign for them but the Diokpas in the villages have already signed for them. You see the problem we are having. Maybe, they have been given something.
And I have been able to educate the councilors, I told them, you must verify very well and even if after verifying, they must come and I will also verify that is what I do. I don't just believe in their own verification. I will now have to call people who are from and around that village on my own to ask questions before we issue it out. I can assure you that throughout our tenure, nothing like that will happen.
However, I am thinking of proposing a revalidation of identification letter. I know why I am saying so because I am aware that a lot of them are in our primary and secondary schools. We don't control secondary schools but primary schools, we control. We can call for it with the assistance of the state government supporting us but you know we can't do it now because election is coming. We must wait till after election otherwise they will fight us.
I am a politician even though as an activist, I am also a politician. Even if you take it to anybody, they will say wait after election. So that is why I can't go ahead now. I cannot propose it because my own is to propose to the state government that this is what we want to do in our primary schools from there we will be able to fish out those who are not from this place who collected our identification letter. So those are the things we are thinking.
What is your personal relationship with the traditional institution? Before you came in, you are aware that there is a pending litigation between Asaba and Oko. What are you doing right now to see how you can use your good offices to resolve and bring these two communities together again so that they can be one?
Well, nobody wrote to me that there is a pending issue before I can intervene. I must be informed first. If you hear something, in government, there must be a written notice to inform you before you can intervene. So, for now, I cannot say I am going to intervene because I have not been informed officially. What I hear from outside is unofficial but when they inform me now, I will now look for… because even if we go to court, we will still come back on a round table. If we go to war, we must come back on a round table.
Why not stop going to war? Don't go to war at all than for you to go to war and still come back after many people must have perished, you are now still coming back on a round table. Why don't you discuss on a round table before thinking of anything otherwise. So I believe in peace. Peace is not the absence of crises but the presence of justice and I always believe in that.
Does the bond between you and the Asagba's Palace still exist?
Well, I don't think I have any issue against them. For me, I don't fight them and I don't think I will fight them and I know the steps I took in the Ogbegonogo Market, the palace is aware and they are in support of what I did.
We have taken charge of the market on our own so that when we want to conduct election, we will make it in such a way that our people have to participate and not somebody coming from somewhere to come and impose their own power on us which cannot be done in the south east. Though, we are all Nigerians but it cannot be done there and if it cannot be done there, it cannot be done here too, that is me.
Onitsha here, our people don't conduct election there, I know their laws there. Chairman and secretary are meant for people there, you can contest any other office but those two you can't try it. You know because those of us here we are peace loving that is why you can see that anybody can come to any part of Delta and come and stay here. We don't like crises here, we are very peaceful and I believe in that peace because it is only peace that brings development. So now that there is peace, it is that peace that we want and that is why we are begging, let this peace continue so that development can keep on coming.
What measures are you putting in place to see how you can integrate the vigilante groups?
Well, I think the vigilante group, there is a particular assignment given to them in Ogbogonogo. So, they are been paid from the market. They are in charge of the security. The security money that is been collected there is their own responsibility. We don't even collect anything from it that is how they are collecting their own money.
Then the police, we have a very cordial relationship. For you to know that there is peace here, did you see any police with me? I don't have any police security. Except now that I am planning because a lot of people are now ganging up to do one thing because I have decided not to bring money to be shared and I have said I don't have money to share. The money we have is meant to work and develop our local government because I want to make a better name than those who have been there before now.
I have a better idea and if you have idea and you don't have money to execute it, the idea will die in you.
There is allegation that you dumped those that supported you during your election and returned to Uche Ogboma and they have vowed to make the council ungovernable for you. How true is it?
They cannot. I was a student activist, they cannot. If I don't want to move with the police, they cannot do anything. Those who are alleging must prove. I never wanted to open up, a situation whereby an OC revenue who has been working before now. I have the right to change an OC revenue but when I came in, I never changed because the person is close to the Vice Chairman and because he is close to the son of one of our leaders, Ogbueshi Adizue Eluaka, I call names.
Tell them that I call names. That is me, I don't fear anybody. Nothing that anybody can do to me because she is close to the former leader that is Ebode, this lady was invited by the legislative arm, she came to me. How did they invite her?
We wanted to remove the consultant that was employed by Obusom. We don't need a consultant for God sake. Do we need a consultant to come and collect money here when we have revenue agent from the council? I felt how can you sign something from 2016 to 2020 even beyond your tenure?
So, I asked them to pass a resolution but they should invite those people. They invited the revenue man himself and the revenue man indicted the OC revenue. They now invited the OC revenue and she came to meet me that they invited her, I told her that she can go, there is no problem. I never knew that all these things were happening. That is how I offended people.
They started calling, they are going to do this to the extent that they have to threaten the leader of the legislative arm that they will remove him that he is working with me for inviting the OC revenue. It was the revenue consultants that indicted the OC revenue and now we are evening seeing a lot of things. I just kept them quiet.
People asked me to transfer the woman, I have the powers to go and meet them to transfer the woman but I kept quiet. These men helped us; I told my Vice you don't allow people to use you. Let me also tell them, Ogbueshi Adizue Eluaka, is not the one who gave me ticket, I will say it anywhere. He was dangling between me and Obusom, in fact, he was supporting Obusom, it was when he heard from the governor when he heard from the governor that I am the one that is why he shifted. When governor and Alanza had discussed because when he now heard he now came to meet Alanza, this is what governor told him that is why he came to me. We were all in a meeting but he never supported me from the beginning. I am saying it because I will say it anywhere but all those ones are passed. What led to these problems is the OC revenue.
How can you have an OC revenue whom they indicted? I didn't take any position, I kept quiet. Are you telling me that when legislators invite you, I should tell her not to go? I said go but whatever be the case, I will intervene. They wrote a letter to me, the letter is still in my office there, that I should remove her as OC revenue, I never removed her, I still kept quiet.
Why will Ebode and Sunny my Vice, if not that we now settled. Ebode doesn't talk to me till now, I don't care. Why will Ebode because of that lady maybe because they have something in common, maybe the girlfriend to be telling people that they will do this and that? Do they think I am that kind of person who worships people? I don't worship any human being, I keep on saying it anywhere, I don't worship people, I respect people.
If you mess up, I don't care of what will happen. This is not the end of my life. I was a member of the Bursary Committee as at 2001 that set up the scholarship board that you people are enjoying today later I now became a member of the Bursary Board. It was from there I came here, I was a member of Goodluck Campaign Organization youth wing. I have my letter.
Like I told them, I am beyond just Oshimili South, I keep on telling them. I am here to serve my people. Can they go and meet Dino and talk to Dino? Dino is my personal friend. Can they go and meet Tony Nwoye, who has contested for governor twice? He is my friend and they respect me. Is it because I became a local government chairman? Their gang up cannot do anything.
I did not know governor Okowa through any of them. Governor Okowa knows that I can perform, he had known me. I have been a critic of the government. Now I am given the opportunity, I have to serve my people not individual; I will not serve any individual.
I am planning now to give the petty traders empowerment to improve their welfare, is my personal money that I want to use, it is not council's money. If it is every month I am able to give to 10 or 20 persons between now and December because they have not seen such a thing before people will be happy. Why will I now carry that money to go and give an individual?
Let them agitate, I don't care. Let them go and tell the governor. The governor will call me; he knows my kind of person. He knows I don't hide my mouth. I will tell him that Oga, those who told you, call the person.
I would have preferred that you call the person who told you to come and say it. Who alleges must come and prove if there is any truth in it. I will not worship any human being, I can worship God and not human being, I will respect human being.
I am here to work; my work is not limited to an individual even if you help me. Even Ugboma that they are saying. What Ugboma will tell me is that I should do the right thing. He was the one that called me just now that I answer. What was he telling me? He said Aniocha North just empowered people. That I should find out how he got the money so that I could do the same thing. Is that not an advice that a leader should give to someone?
Must a leader call you early in the morning to come and sit down and drink beer? Instead of you going to the office, you will sit there and be discussing? Discussing what? Rubbish! I won't do that. See, no gang up will work against me. One thing is that my hands are clean. I don't believe in fighting anybody, I don't have enemies.
I must leave Oshimili South better than the way I met it, that is my own target. Calabar is clean, it is people that make Calabar to be clean, I want Oshimili South to be like that before I leave and that is why we want to inaugurate environmental marshal. I want it to be better than how we met Oshimili South and not for it to be worst. So I cannot use monies from Oshimili South to service any individual.
I took something to go and see them for the Easter, that one is enough not going every day or two days interval to go and see you, I won't and I stand by it. Let them go and tell anybody, I won't do that.
How do you intend to tackle the absence of cemetery in Asaba which has become a very big challenge?
I just forgot to tell you. We have already reached out to Eboni casket at Mainland in Lagos and Apam, I have gone to them. We were able to locate a land that has been wasting. It is the council's land besides post office, those houses are dilapidated. So, what I did is that we are going to destroy them and convert that place to a mini cemetery first while we are looking for a land so that we will meet the governor if he can help us to acquire land even if it is outside our council because we know we don't have land again in Oshimili South.
I am planning that one but this one; we have reached out to Eboni. He said we should write him for him to come from Lagos. We have just discussed with Apam and he said he want to see the place. We have that in mind while we are also … you know that there is a new building there as you are entering, we want to convert that one to a mortuary that will make money for us while some of these our health centres which have traffic; where people are coming in, we brought a laboratory man from Lagos who will set a laboratory there rather than they going outside to go and do test before they come, you can go in there, you can do and treat yourself there.
It is a partnership, he is going to bring everything but we are providing space. We are going to use Umuago, Cable but I have to secure it because they are always coming in there to rob them. So I want to first secure them before I ask them to move in and Okwe. Those are the three that we want to use to establish laboratory, the man has come already. He has sent his MoU. We want to read the MoU, after agreeing, he have to put certain things in place before he will now move in properly.
And I know that by the time we start to collect revenue, we will have money to do the things he wanted because I want to do barbwire on that Okwe, because they jump from back to rob them there. We want to make sure that we put those wires to make sure that we also repair the gate so that they can be locking it when it is night. We have been able to map out a place where we will use, for those who don't have much place like the Cable, we are going to build more places that we have designed where the laboratory machines and other things will be.
You know that in Laboratory, you have to work even overnight. We have been able to do all of that, we are just waiting for the man because he is interested; and the MoU is what we are just waiting for so that we can look into the MoU and give it to our legal department because we don't do anything without involving our legal department so that it will be on ground and maybe we can as well institutionalize it by giving it to our legislators so that they can pass it into law so that even after our tenure any good thing like cemetery, will continue. It must not be that because it came with us, it must also go with us.
What plans do you have for the unemployed youths?
For them, the state have YAGEP, STEP, those are the areas we are helping them and two days ago, I spoke with my friend who is close to smedam and I told them to bring a proposal for 100 youths that we can train in Oshimili South. Maybe, each ward will give three each for one particular skill but depends on what you want anyway. If we take three each per ward for the first set, that is 33. Then training again, they called me from Abuja, and I told them to give me the proposal so I can see how workable it is so that we can do it.
I know that if we start it, I can tell you that the European Union will come and help us just the way World Bank is helping the governor now. That is what we intend doing while we are also pleading with them to key into the governor's programme of YAGEP and STEP, while we are also planning our own.