NADCEL 2018: NAOWA Supports Konduga and Tungushe Communities WithFood, Non Food Items in Borno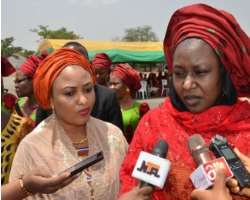 As part of the NADCEL 2018 grand finale celebration, the Nigerian Army Officers Wives Association NAOWA today, Friday distributed large quantity of food and non food items worth millions of naira to residents and internally Displaced Persons IDPs of Konduga and Tungushe communities in both Konduga and Nganzai LGAs of Borno state.
Distributing the items, the NAOWA President, Hajiya Umma Kalsum Tukur Buratai said the gesture was purposely armed at supporting IDPs/residents and cushioning the effects of the boko Haram insurgency which had exposed them to severe sufferings and hardships.
She added that the wives of the Nigerian Army Officers in marking the 2018 NADCEL celebration deemed it necessary to come over to their communities personally to sympathise with them over the recent boko Haram insurgents attacks on their communities and urged them to consider it as a destiny.
The NAOWA President further appealed to them to be patient and endure all the challenges as a destiny from God while praying for an end to the insurgency and quick return of peace to their communities, the state and north east at large.
She also assured them that NAOWA will always be with them and support them when and where necessary as mothers, pointing out that, as mothers , they also feel their pains and plight while urging them to continue to support the government and security agents to serve them better.
Items distributed in both Tungushe and Konduga towns include 150 bags of 25 kg rice, 400 customized NAOWA 2×7 mattresses, 400 pieces of blankets, 400 pieces of pillows, 1000 women wrappers/Clothes, 500 mother care/Children wears and 500 pieces mosquito nets among others.