Incessant killings :No religion or culture accepts killings - Buhari
Vows to end it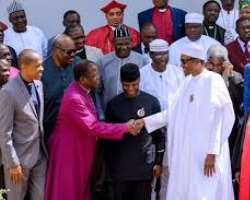 President Muhammadu Buhari says the killings in Nigeria are unacceptable and cannot be justified by any religion or culture.
The President, consequently, called on all Nigerians to rise and condemn the bloodshed in the country and the attacks that have left hundreds dead.
He spoke about the killings on Thursday in the Presidential Villa, Abuja, when leaders of the Christian Association of Nigeria (CAN) from the 19 northern states visited him.
"We, Nigerians, are religious people and no religion or culture accepts the killing of people for any reason whatsoever," the President said.
"This is why we must all rise as one to condemn these vile and wicked acts to ensure that all the culprits are brought to justice."
Since January 1, 2018, when suspected herdsmen attacked villages in Benue State killing 73 persons, there have been similar attacks in several states with many Nigerians calling on the government to take decisive action, including reviewing the nation's security architecture.
On June 23, an attack on villages in Barkin Ladi, Plateau State, left at least 100 people dead, and led once again to calls on the government to act.
President Buhari, who paid a condolence visit to Plateau State after the attacks, told the CAN leaders that the attacks in the state as well as Benue, Zamfara and others are "wicked, condemnable and completely unacceptable acts".
"We owe it to the memory of those who lost their lives in the violence in Plateau, Benue, Nasarawa, Taraba, Zamfara and elsewhere since 1999 to bring the conflicts to a decisive end. I assure you that we will do this," he said.
"Let me make it clear that even a single life lost in any part of the country is one too many."
President Buhari had risen to power in 2015 promising to tackle insecurity, fight corruption and strengthen Nigeria's economy.
The President has not forgotten his promise to protect Nigerians.
"I came to office vowing to ensure the protection of lives and property, and I remain committed to this despite the challenges we have experienced," he said.
"I, therefore, seek your support as clerics and religious leaders to join hands with this administration and give us your full support."
This, he explained, is because all Nigerians have a role to play in keeping the nation united and ensuring security.
"As you all know, deploying law enforcement agencies is fully our responsibility as a government while creating the platform and mechanisms for dialogue is a collective effort."
Although killings have continued in the country, attracting criticism for the government, the President believes there has been some progress in the drive to secure the lives of Nigerians.
"The military and police have arrested hundreds of suspects across the various flash-points in the region and several prosecutions are going on. In a number of cases, we have seen convictions," he told the Christian leaders.
"Nigerians are right when they say they want to see more convictions and I would like to appeal to the judiciary to help us fast-track these cases."