2019: Gov Shettima Heads To Senate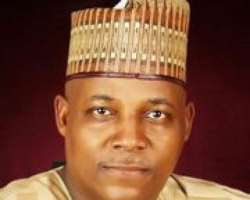 As the 2019 general election is fast approaching, the political enrichment in Borno state have taken a new dimension with the emergence of aspirants and their posters, bill boards and pamphlets all over the places despite the security challenges from the boko Haram insurgency.
From all indications, the incumbent Governor of Borno state, Alhaji Kashim Shettima who by 2019 will be finishing his second term in office as democratically elected Governor of Borno state having taken over from his boss and predecessor, Senator Ali Modu Sheriff in 2011. The touch light seems to be flashing very bright for his political ambition to head to the Senate to join his colleagues as usual with the display of bill boards and posers all over the major streets and highways of Maiduguri city, the state capital.
This however is coming at a time the governor had severally announced that he will return to the class or school immediately at the end of his second teem to continue with his studies or pursue his Doctorate degree in agronomy.
But the reverse is the case now that he is warming up for the senate as other state governor do at the end of their second tenure in office which contradict his earlier intention and pronouncement.
The bill boards and posters of Governor Kashim Shettima for Senate 2019 Borno Central Senatorial District have completely decorated almost all the streets and roads of the state capital, Maiduguri since even before his arrival from Sweden where he went on official engagement to attend an international conference on empowerment and peace building along with his entourage.
The situation suddenly changed since his arrival in Maiduguri Wednesday evening with increasing number of posters and billboards while the political youths took to the streets now singing slogans for him unlike in the past when they did'nt even care whether he was passing by or in their area on official engagement.
Revise is the case today as usual when new political aspirants surface to aspire for political positions as they believe money will flow, especially, what is popularly known in Borno as "Yirne", meaning spread of money by politicians in the streets or at occasions on youths and children cheering them.
Some political analysts that spoke to The Nigerian Voice in Maiduguri said, there is nothing wrong with his political ambition and intention to go to the Senate but the problem surrounds his acceptance by his people, especially, the Borno central and popularity recently with the prevailing civil servants salary and retirees pension non payment for months as a result of the verification exercise he introduced which created lot of problems and challenges to civil servants and pensioners
They were of the view that Borno state citizens, especially the civil servants and pensioners who are the majority electorates with their wives and children have suffered a lot in the hands of the governor and most of them are now nursing their wounds and trauma for the loss of their loved ones as a result of lack of salary and pension.
According to them, some have already died because of poverty, starvation and hunger for not being able to feed or cater for their families. Some fell sick and presently suffering from physical, emotional and psychological challenge as a result of the non payment of their salaries and pensions.
These, they said may affect his popularity and acceptance or victory at the polls while others were of the view that if care is not taken, what happened to his predecessor, SAS in 2011 senatorial election may happen to him where billions of naira were spent on the particular election in 2011 in spite of the power of incumbency and control of government machinery and security, SAS could not win the Borno central senatorial election as a political God father of Borno politics.
Senator Ali Modu Sheriff was defeated by the opposition party, PDP candidate, late Senator Khalifah Ahmed Zanna before the late defection to the APC to recontest election in 2015 and won the said election but destiny had its way as he rest to eternity few months after declaring him winner of the said senatorial election and sworn in.
A situation that led to Governor Shettima sponsoring his then Local Government and Chieftaincy Affairs State Commissioner, Alhaji Baba Kaka Bashir Garbai, young brother of the Shehu of Borno, HRH, Alhaji Abubakar Garbai Umar El Kanemi to the senate to replace the late Senator Khalifah Ahmed who was laid to rest and glory after a protracted illness in a hospital abroad.
Political analyst said even Garbai was sent to the Senate by the governor on mutual understanding or agreement that he should hold the seat for him against 2019 senatorial election as Senator Kaka Malam Yale did for SAS in his second term in office between 2008-2011.
But some political associates of Governor Shettima were of the opinion that Senator Bakaka Garbai has woefully failed and betrayed both his people and the governor resulting in a feud between the senator and governor that has not been resolved till now.
This, they said informed the absence of Senator Garbai in Borno which has made him to become Abuja politician and romancing with the Senate President, Senator Bukola Saraki as his god father has compounded the rift between the duo.
The situation culminated to a conspiracy against his colleague and facilitator at the senate, Senator Ali Ndume as Senate Leader, contributing to his removal from office suddenly without any offence as Senate Leader but his loyalty and romance with the presidency as a Senate leader.
The relationship between Senator Ndume and Senator Garbai as well as Governor Shettima until much recently became soured. The governor and Ndume reconciled after realising the truth but the relationship between Senator Garbai and Governor as well as Senator Ali Ndume is rough, leading to Senator Garbai abandoning his constituency and people.
He rarely visit Borno and whenever he is in Borno, he goes into hiding and running away from people for fear of being embarassed by political thugs or his political enemies. it is highly speculated that he is no longer popular and acceptable to his people and constituency.
Investigations revealed that Governorr Shettima's decision to accept to contest for the senatorial election was widely supported by his followers in the senatorial district and the incumbent House of Representatives Member representing Maiduguri Metropolitan Council MMC, Honourable Rahis Kadiri, the Member representing Maiduguri Metropolitan Council MMC at the Borno State House of Assembly, Honourable Abubakar Tijani and Maiduguri Metropolitan Council Caretaker Committee Chairman, Honourable Bakari Ali Kotoko as well as their supporters.
This means, they will combine their forces and mobilize or campaign for Governor Kashim Shettima to go to the senate in 2019 as opposition parties pledged to carpet the APC ruling Party tactically using the weaknesses or shortcomings of the ruling party.