FEC awards N206bn contract for link roads to Second Niger Bridge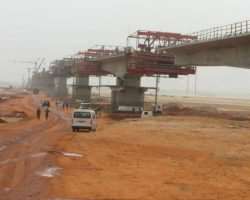 The Federal Executive Council has awarded a N206bn contract for the construction of link roads to the Second Niger Bridge.
According to a tweet from the Presidency, the contract has been awarded to Julius Berger and it is expected to be completed in 42 months.
The Second Niger Bridge, which is perceived as a project dear to the hearts of people of some South south states and the people of the Southeast, has dragged on as successive administrations have latched unto the project for electoral gains only to abandon it after elections.
The link roads include the ones on both the Asaba and Onitsha ends of the bridge, totalling 12 kilometres.
See the tweet below:
Presidency Nigeria
✔ @NGRPresident
The Federal Executive Council (FEC) today approved the award of the contract for the construction of Link Roads to the Second Niger Bridge (on both the Asaba & Onitsha ends, totaling about 12km) to Julius Berger, for N206 billion, with a 42-month completion period. # FECBrief