Notorious French gangster on the run after escaping from Paris prison in a helicopter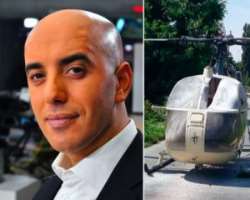 A notorious French criminal serving 25 years for murder has staged a daring escape from a prison south of Paris using a helicopter.
A huge manhunt has begun for Redoine Faid around the French capital after he broke out of Reau Prison.
Officials said drones seen buzzing above the prison months ago may have been on a reconnaissance mission ahead of the escape.
France's justice minister said several drones were spotted a few months ago flying over the prison and speculated that they were linked to Sunday's escape by Faid.
Heavily armed men landed a helicopter in a courtyard, used a grinding machine to open the door of the visiting room where Faid was seeing his brother, and took the prisoner to freedom.
Faid, 46, is an avid fan of caper films, the author of a confessional book about his life of crime, and a serial robber of banks and armoured trucks.
This is the second time he had escaped from a French prison , after he used explosives to blast his way out of jail on a previous occasion before recapture.
France's justice ministry said 46-year-old Faid's escape only took "a few minutes" and no-one was injured or taken hostage.
It said "an armed commando landed in a helicopter in the courtyard as the prisoner was in the visiting room" of the facility.
A union representative at Reau Prison, Martial Delabroye, told BFM television that "two men dressed in black, wearing balaclavas and police armbands" entered in the prison to look for Faid.