mortality: Minister urges stakeholders to reduce maternal mortality in the country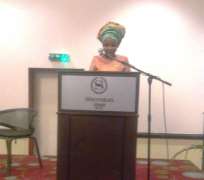 The Minister of Health, Prof. Isaac Adewole, has stressed the need for all stakeholders to continuously work towards improving women's health, saying this will reduce the high maternal mortality rate in the country.
Adewole made the call on Friday in Abuja while delivering a keynote address at the end of the project tagged: "Preventing Maternal Deaths from Unwanted Pregnancy" (PMDUP).
He said that the project was aimed at preventing maternal deaths resulting from unwanted pregnancies by increasing the availability of comprehensive abortion care as permitted by law and modern family planning services.
Adewole who was represented by Dr. Adebiyi Adebimpe, Director of Family Health, Federal Ministry of Health, noted that the contribution of women to nation building was enormous.
He said that women have a lot of role to play and no woman should die while giving life. "A woman is a primary caregiver and bread winner in many Nigerian homes. She is also a nation builder in her own right and she contributes significantly to the economic and social development of our great country. Therefore, no woman should die while giving life," he stressed.
He regretted that women die over small and affordable preventive measures, disclosing that most maternal deaths can be avoided if women could access appropriate healthcare.
Experience has shown that small and affordable measures adapted to the context of each country can significantly reduce the health risks that women face when they become pregnant.
According to him, most maternal deaths can be prevented if women have access to appropriate healthcare in the pre-pregnancy period, during pregnancy, childbirth and immediate post delivery.
It is our national resolve, in collaboration with stakeholders, to end preventable deaths of mothers and babies," he added.
Hauwa Shekarau, Ipas Nigeria Country Director noted the success of PMDUP, explaining that over 26,974 maternal deaths, and 199,845 estimated unsafe abortion was averted through the project.
Shekarau said that PMDUP was a five year project executed by foremost women's health rights advocates Ipas Nigeria.
She said that one of the key outputs project was creating enabling environment for improved women's sexual and reproductive health and rights.
"Under the health system strengthening output, key performance indicators were achieved as follows:
- 222 per cent, family planning services.
- 101 per cent, intervention site.
- 154 per cent, trained health workers.
- 113 per cent, minimum quality standard,
- 1,179 unintended pregnancies was also averted among others," she said.