Apc National Convention Fallout: Unakalamba Chides Gov. Okorocha Over Thuggery
DESCRIBES IMO ASSEMBLY SUSPENSION OF INNOCENT MEMBERS AS SHAMEFUL, PLOT AGAINST IMO DEPUTY GOVERNOR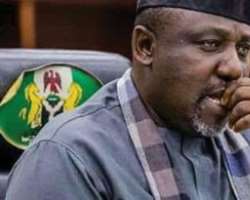 A chieftain of All Progressives Congress, Chief Ambrose Unakalamba, has descended heavily on Governor Rochas Okorocha of Imo State over what he described as a disgraceful attitude that is least expected of a Governor during the recent concluded All progressives Congress National Convention in Abuja.
He made the assertion while fielding questions from newsmen yesterday, in Owerri, Imo State.
The Businessman turned politician particularly berated Governor Okorocha for unleashing thugs who beat and disrupted the voting exercise thereby causing bodily injuries on Imo delegates. He further accused Governor Okorocha of superintending meddling of electoral material and general confusion with the aim of rigging the voting process.
He regretted non-inclusion of over 1200 votes from six States, thereby calling for a re-run for the affected States.
He called on the newly inaugurated National Working Committee of the party led by Comrade Adams Oshiomole not give room for any officer who emerged through a controversial manner.
In the same vein, Chief Unakalamba also regretted the vexatious suspension of four lawmakers by the leadership of Imo House of Assembly led by Hon. Acho Ihim loyal to Governor Rochas Okorocha over an undisclosed reason, saying that it is a grand plot to pave way to begin an impeachment process against the Deputy Governor.
According to a close source, the offense of the affected lawmakers who are Hon. Uche Oguike representing Ikeduru State constituency, Ifeanyi Nnataraonye representing Imo Deputy Governor's local government, Mbaitoli, Hon. Nzeruo John Nkenna of Oru East and Hon. Chiji Collins representing Isiala Mbano Constituency is not unconnected with their sympathetic posture for the Deputy Governor.
He therefore called on the leadership of the Imo assembly to rescind their decision for posterity sake, regretting that they have turned the State to a laughing stock, which is known for its good conduct and high intellectual acumen.
The renowned economist warned that Imo people will resist any any impeachment move against the Deputy Governor who he said has not breached any constitutional provision as relates to his conduct and responsibilities.