#NoSecurityNoCountry: What Nigeria Must Do To Stem The Bloodshed That Keeps Us The Most Terrorized Nation On Earth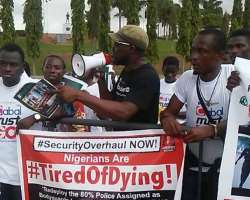 We here present an itemized list of what must be immediately done to stem the intractable spate of bloodletting, wanton terror and kidnapping in Nigeria.
Nigeria's security structure must be immediately and promptly, seriously overhauled along with a total cleansing of the political posturing of government officials and the citizenry. On June 19th, ENDS.ng, the Cabal Must Go Movement, New Nigeria Progressive Youth Alliance, Youths Association for Good Leadership, Coalition for Better Nigeria and other groups and individuals commenced protests across Abuja and around the world, demanding total Security Overhaul [See video of protest at Abuja Police HQ: https://youtu.be/lBiMCqU4ipU ].
We presented a list of demands to the authorities via printed and online letters. The contents are below with an addendum to include necessary immediate interventions to reposition the nation and safe the lives of its helpless. [June 19th Protest letter: http://ends.ng/ends-letter-to-nigerian-authorities-demanding-total-securityoverhaul-over-bloodshed-protests-commence-today/ ]
In our June 19th, 2018 letter to the Presidency, House of Assembly, Police Department, State Security Agency, Office of the National Security Adviser and Nigerian Army, we wrote:
TO THE NIGERIAN AUTHORITIES,
THE PEOPLE'S DEMAND FOR TOTAL SECURITY OVERHAUL
After receiving the news of the resignation of Zamfara governor Abdul'Aziz Yari as CSO of the state due to his inability to work with the nation's police, and in lieu of the continuous, unabated and endless rate of terror deaths of poor Nigerians across the federation due to the total collapse of our security establishment; we the people are hereby demanding immediate, total security overhaul in Nigeria.
We present our base demands:
1. IMMEDIATE Retirement of Security Service chiefs!
2. Redeployment of the 80% police currently assigned as bodyguards for the wealthy cabal as admitted by IGP Idris, to secure the masses.
3. Redeployment of SARS to pursue killer Boko Haram terrorists hired by the cattle owners, rustlers and farmers.
4. An end to SARS after above item #3.
5. Return of the military to rest in the barracks, as they have no constitutional role replacing the police with wartime brutality because the police are currently diverted to be bodyguards for the wealthy cabal.
6. Trial of all security agents and heads implicated in massacres and secret burials ofprotestingyouth across the nation. (Zaria massacre, Onitsha and Umuahia massacres, senator Lafiagi Kwara massacre etc.)
7. The Arrest of senate president Bukola Saraki as is constitutionally ordained based on the publicity indictment charade by the police. Once police accuse a citizen of aiding or arming terrorists, IT IS A MUST THEY IMMEDIATELY ARREST HIM. Otherwise the police officers responsible for the public charges must be held to account
8. For IGP Idris to be held to account for "flouting" Buhari's orders to keep a special force to protect the poor people of Benue as Buhari alleged.
9. The immediate decentralization amendments to create state police and restore regionalism.
10. 100% monitoring of "Security Votes" allocation and FULL PUBLIC Disclosure of disbursement.
11. Better welfare, funding and mass recruitment for the Nigerian police.
12. Prompt proscription of all groups currently involved in terror in Nigeria without discrimination.
13. Retraining of police, reassignment to areas of need to prevent crime and a total end of intimidation tolls with police begging for bribe on Nigerian roads.
14. Proper registry with full names of all Nigerian deaths from terror without concealment of any kind.
15. Proper benefits and welfare for civilians and state security officials and their families who are victims of terror.
16. The arrest and prosecution of Boko Haram sponsors and all other terror sponsors.
Addendum:
17. As would have happened by now in any responsible and conscientious nation in the world, president Muhammadu Buhari should tender his resignation in recognition of his failure to stem the killings in over three full years of being in office. The Senate should commence impeachement in the event that he does not.
18. The Attorney general of the Federation, Malami should also resign for his complete failure, subversion of the law and discrimination.
19. Immediate reading of the Riot Act to all Nigerians and dissemination of warnings to all individuals and groups that the resort to above-the-law violence will no longer be tolerated and acts of terror will be addressed in keeping with the stipulations of Nigeria's anti-terror bill, including via capital punishment.
20. On the herder-farmer crises:
a. the procurement of grazing lands to be rented voluntarily from land owners without any form of coercion.
b. Fixing a per- livestock land rent fee for herdsmen who will use the acquired lands. This is how it operates around the world with US government charging $1.69 AUM (animal unit month) and private lands leasing for grazing at $5..60 per AUM.
#NoSecurityNoCountry!
The current security breakdown is a most important reason for the high cost of food and level of extreme poverty and hardship in Nigeria. Without security, there is no hope and progress as we chant during our protests, "No Security, No Country!"
I am contesting to be Nigeria's president in 2019 by God's grace. These are the interventions I will immediately set out to accomplish from day one; however I present them here for those who have a conscience to imbibe them now and with all seriousness in the interest of repositioning Nigeria and saving the lives of its people.
Our police must be saved from the "worst in the world" to a distinguished institution. Nigeria can no longer remain the most terrorized nation on planet earth.
We demand responsibility from the leadership. We shall wait no more for this simple and urgent repositioning of Nigeria's security apparatus.
TOO MANY INNOCENT LIVES HAVE BEEN LOST. THEIR DEATHS MUST NOT BE IN VAIN. IT IS TIME FOR THIS DEADLY IRRESPONSIBILITY TO END ONCE AND FOR ALL. VULNERABLE NIGERIANS CANNOT AFFORD TO WAIT TILL 2019! THE POOR PEOPLE OF BENUE, TARABA, ZAMFARA, ADAMAWA, BORNO, KADUNA, ONITSHA, ENUGU CANNOT BE LEFT TO DIE, HELPLESSLY AND CHEAPLY ANYMORE.
WE DEMAND THE RESPECT OF THE SANCTITY OF LIVES IN NIGERIA
Signed: Dr. Perry Brimah, Whatsapp Tel: +234-903-420-3031; +1-929-427-5305
@CabalMustGo; @EveryNigerian
Disclaimer:

"The views/contents expressed in this article are the sole responsibility of the author(s) and do not necessarily reflect those of The Nigerian Voice. The Nigerian Voice will not be responsible or liable for any inaccurate or incorrect statements contained in this article."