Subject: FAO distributes seeds, fertilizers to farmers displaced by Boko Haram Insurgency in North East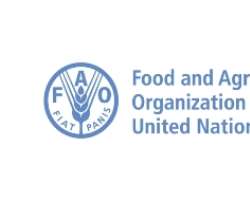 Over one million IDPs farmers displaced by the Boko Haram insurgency in Borno, Yobe and Adamawa states are supported by the United Nation's Food and Agriculture Organization (FAO) with seeds, seedlings and fertilizer to return to farming.
FAO flagged off the distribution of assorted seeds and fertiliser to the 149,730 households in Maiduguri yesterday Tuesday.
It will be recalled that cropping season commences in full in most parts of Borno and Yobe states in June when farmers begin to mobilise to their farmlands while until last year farmlands, were said to have been cultivated especially in Borno state axis which were abandoned for over three years due to the Boko Haram insurgency which has displaced over two millions people from their communities.
The country representative of FAO in Nigeria, Mr. Sufyan Koroma who was represented by the Maiduguri head of FAO office, Mr. Michael Oyhe said the farmers were selected considering their access to safe lands in their respective localities, ability to farm in the season and the scale of their vulnerability.
"The seeds being distributed by FAO have a high seeding rate per hectare and are drug, pest and disease tolerant", Koroma said.
He added that FAO was bringing the intervention because it believed that "a restoration of livelihoods, particularly in agriculture, will be central for a full recovery in the region and the rainy season a major opportunity to strengthen livelihood in the selected North eastern states
Koroma maintained also that its intervention became necessary due to the expectation that many of the 2.9 million affected farming household in the region may be facing scarcity of food between the months of May and September this year.
Borno State Deputy Governor, Alhaji Usman Mamman Durkwa, who performed the flag off ceremony at the Farm Centre Maiduguri, commended FAO for being one of the key UN agencies that have been supporting and assisting the people of the North east of Nigeria.
Durkwa said the agency has, in its agricultural transformation agenda, invested massively in agriculture in the area of mechanised farming as well as stockpiled various kinds of assorted seeds for immediate deployment in all parts of the state.
Highlight of the event was the handing over of bags of assorted seeds and fertiliser to some selected farmers.
One of the beneficiaries, Haruna Hamisu, who received his package of assorted seeds expressed appreciation to the UN agency.
He said various interventions such as FAO's were either diverted or hijacked by some officials "who only favour those that are familiar with them."
"We are happy that the FAO is giving farmers these important farming inputs; but on a sad note, it does not get to us the real farmers. Those of us in the hinterlands of Zabarmari in Jere local government would only hear that FAO is distributing such items, and before we could understand what is happening, we are told it is finished. So we want the FAO officials to understand our challenges."
Mr Oyhe, earlier while addressing the benefiting farmers, asked them to report any case of official misconducts "like asking for money in exchange for the freely distributed seeds and fertilisers to the extension offices close to them."