NLNG to deepen LPG usage with vessel contract to local coy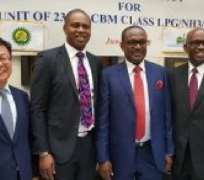 In a bid to deepen consumption of Liquefied Petroleum Gas (LPG) by Nigerian's and encourge its integration into the country's energy mix, the Nigerian Liquefied Natural Gas (NLNG) Company has awarded a contract for the provision of a new build LPG ship to a fully indigenous company, E.A. Temile Development Company.
The vessel will serve as the chartered ship by which the NLNG will deepen the delivery of LPG, commonly known as cooking gas into the domestic market for improved availability and scale.
In line with the contract, E.A. Temile Development Company signed an agreement on Friday in London with Hyundai Mipo Dockyard, South Korea for the construction of the new LPG vessel.
The Executive Secretary, Nigerian Content Development and Monitoring Board (NCDMB), Engr. Simbi Wabote described NLNG's award of contract to the local firm as a confidence building move and a bold endorsement of local capacities and capabilities.
He added that the development was a manifestation of the progress that had been made in the local content journey and challenged other industry stakeholders to come up with similar initiatives. "I expect several operators and service providers to get inspirations from this milestone event and see the possibilities in our local content practice rather than the difficulties."
He also congratulated E.A. Temile Development Company for clinching the important contract and breaking the stereotyped glass ceiling that had often stopped indigenous companies. He further charged the company to keep within the terms of the contract and deliver safely.
Speaking further, Wabote demanded that Hyundai must look seriously at domiciling key aspects of its activities in-country.
"There is a lot of repeat business and the opportunity is huge with the massive infrastructure deficits in the LPG value chain. You should partner with local businesses for increased in-country value addition especially in the area of maintenance of vessels."
He stressed that NLNG's efforts to deepen the penetration of cooking gas tallies with NCDMB's interventions to utilize oil and gas resources to improve the quality of lives of Nigerians.
M&P recalls that in January 2017, the West Africa Gas Ltd (WAGL), a Joint Venture Company of Nigerian National Petroleum Corporation (NNPC), and Sahara Energy had commissioned two LPG vessels in Ulsan, South Korea which promised to be game changers in the supply network of the subsector.
However, contrary to our earlier report that more than a year later, the Joint Venture had yet to yield any results, new information available to M&P reveals that since the inauguration of the vessels, "MT Africa Gas" and "MT Sahara Gas, gas supply to countries along the West African coast has improved significantly.
M&P confirmed from Bethel Obioma, Head, Corporate Communications, Sahara Group, that the vessels which have since been deployed on the West Africa coastal corridor, have delivered various quantities of LPG to Abidjan, Tema and Lome. Thereby, living up to the mandate to serve as a vehicle for off-take, marketing and trading of Natural Gas Liquids (NGLs) across Africa and beyond.
As expected, the vessels' operations have given impetus to the NNPC's vision which hinges on boosting availability of the commodity in Nigeria and the West African sub-region.
However, as regard stimulating interest in the product as a more efficient alternative, Wabote regretted that the current level of LPG penetration in the country was still very low, at roughly 1kg per capita consumption compared to Ghana at 4.7kg, Senegal at 9kg, and Egypt at 85kg.
"The addition of this vessel will surely address part of the challenges bedeviling LPG utilization in the country. It is expected that the NLNG market share of domestic LPG will increase significantly from the current level of 40 per cent and ultimately lead to stoppage of importation of LPG into the country."
Basil Ogbuanu, former President, Nigerian Association of Liquefied Petroleum Gas Marketers (NALPGAM) said that Nigeria was making modest progress as regards consumption of LPG.
"I remember as at 2007, the nation's total consumption of LPG was around 70,000 metric tons (MT), but today, the total consumption is around 400,000 to 500,000mt. However, considering Nigeria's population it is evident that we have a long way to go as we still consume less than 20% of our annual requirement."
Ogbuanu also stated that the primary challenge with LPG supply and consumption in Nigeria today has to do with inadequate berthing space for vessels laden with the product.
He revealed that most times there is a long line of vessels waiting to discharge and the unspoken rule is to give priority to PMS and Jet Fuel at the expense of other fuels, and he called for enactment of friendly policies to support businesses in the sector.
In the area of investments, Wabote added that NCDMB had commenced discussions with some investors to address challenges around accessibility to LPG. "We are looking at initiatives around bulk storage depots and establishment of LPG cylinders manufacturing companies including provision of support for re-opening of moribund ones."
He noted that one of such in-country facilities have an installed capacity for the production of one million 12.5kg LPG cylinders per annum and 400 gas cookers daily and can provide 1000 jobs at full capacity, yet it was shut down, leading to a deluge of imported cylinders and accessories. "We will play our part to reverse this trend," he promised.
Source:
M&P, NCDMB