Adams Oshiomhole sworn-in as APC National Chairman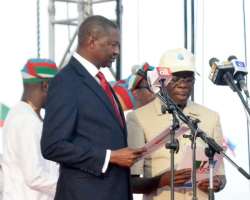 Former Edo State Governor, Adams Oshiomhole, has been sworn in as the National Chairman of the All Progressives Congress.
Oshiomhole, who was affirmed as the National Chairman of the party unopposed on Saturday, was sworn in on Sunday by the Attorney-General of the Federation and Minister of Justice, Abubakar Malami.
Ahead of his inauguration, the National Working Committee and National Executive Committee of the party were dissolved to make way for the new leadership.
It was a long wait for his inauguration as the National Convention dragged on deep into a second day.
Oshiomhole replaces Mr John Odigie-Oyegun who became National Chairman in 2014 and led the party into the 2015 general elections.
Channels tc reports that the former labour leader, however, has his work cut out for him as the party has battled internal crisis for months now.
Members of the party in some state are unable to see eye to eye and the internal divisions were evident during the ward and state congresses leading up to the national convention with parallel congresses held in some states.
The national convention was not spared of the dispute and divisions threatened to derail it at some point.
Despite heavy security presence at the Eagles Square in Abuja where the exercise took place, delegates from Imo and Delta became engaged in a free for all while President Muhammadu Buhari was addressing the convention.
Their dispute was, however, not as a result of the President speech. Rather, it was about old divisions among them worsened by disagreement over who to vote for.
The Imo delegates were allegedly divided with a group supporting the state governor and a second group supporting his deputy.
The situation in Delta is also reportedly due to conflicting loyalties.