Senator Enyinnaya Abaribe's Arrest: His Layer Explains Reasons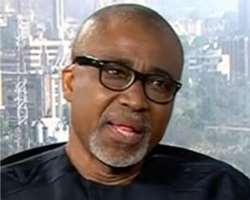 The Department of State Security (DSS) is detaining former Deputy Governor of Abia State, Senator Enyinnaya Abaribe, for alleged gun running and aiding and supporting the proscribed Indigenous Peoples of Biafra (IPOB), his lawyer said yesterday.
Mr. Chukwuma-Machukwu Ume (SAN) told reporters in Abuja that the search warrant procured by the DSS to search Abaribe's Abuja residence on Thursday allowed it to "focus and search for arms and ammunitions and any other incriminating document, while the alleged crime was aiding and supporting a proscribed body, i.e. IPOB."
The search came moments after the Senator representing Abia South was picked up by security agents at Transcorp Hotel, Abuja, where he had gone for a haircut.
The search warrant was dated June 2, 2018.
Ume said the 'excruciating search of all corners and every item' in the house lasted from about 5pm till 11:15 pm Friday.
He also said 27 items were taken from his client's home none of which was a gun or ammunition.
His words: "but unfortunately, two of the 27 items include the two handsets of two USA citizens found in the house.
"One of the laptops taken included that of an educationist containing examination questions slated to be set for students on the 25th of June 2018.
"All pleas for these questions to be copied were refused."
Ume said he was worried at the turn of events because when the leader of IPOB, Nnamdi Kanu, was due to appear in court on October 2017, his house was brutally shut down in September.
"Senator Abaribe, the surety to Nnamdi Kanu, is to appear in court on 26th June 2018, but on 22nd June 2018, Senator Abaribe was arrested and detained incommunicado," he said.
Giving the background to the arrest, Ume said: "Yesterday (Friday) in the forenoon hours, our Senator Enyinnaya Harcourt Abaribe, a high ranking senator of the Federal Republic of Nigeria, was arrested by officers of state security services.
"The articulate senator who has contributed a lot to our nation building effort is of the Peoples Democratic Party (PDP).
"His arrest was as shocking as it was curious.
"As his counsel, I have, long ago, complied with DSS stipulation for meeting with its detainees.
"I have also requested for a meeting with the D.G of the service to know the reason for his arrest.
"All fell into refusal ears. At about 4:45pm, I was alerted that officers of the services were heading to the senator's residence.
"I had to break my long wait at the DSS Headquarters and rushed to the senator's residence.
Ume claimed Abaribe's arrest was motivated by his opposition to the federal authorities.
He said: "this man is a known strong voice of the Igbo nation; hence this is a clamp down on the region."
Ume also said that Abaribe's revelation that N30 billion was smuggled into the budget of the Power Ministry without the knowledge of the Senate Committee on Power, Steel Development and Metallurgy may have also been one of the reasons for his arrest.