Sex for mark scandal: OAU dismisses Professor Richard Akindele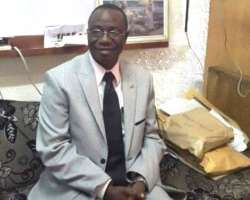 Professor Richard Akindele
A senior lecturer at the Department of Accounting, Obafemi Awolowo University, (OAU), Ile-Ife, Professor Richard Akindele has been dismissed from the service of the institution for gross misconduct and sexual harassment.
The authorities of the university found him liable after the probe of the allegation that he (Akindele) demanded for sex from his student, Miss Monica Osagie as a condition to pass pass examination.
The Vice Chancellor of the University, Professor Eyitope Ogunbodede told The Nigerian Voice that the Joint Committee of Council and Senate of the university that probed the allegation against the professor recommended his dismissal.
The Vice Chancellor said the professor conducted himself in an inappropriate relationship with Monica as established through their conversations in the audio recording.
Ogunbodede said the lecturer acted in a manner that is seen to have compromised his position as a teacher and examiner given the manner he was negotiating with Monica on about examination scores and inducement of favour for the alteration of examination scores.
According to the OAU VC, "He offered to change Miss Osagie's purported 33% result to a pass mark in consideration for sexual favors, this was established in the audio recording which he admitted"
"His claim that Miss Osagie knew that she had passed with a score of 45% but was seeking to score an A and that this led to him being sexually harassed by Miss Monica cannot be supported by any evidence"
"Professor Akindele's action in requesting sexual favour from Osagie to change her examination score was scandalous behavior that has brought ridicule to the name of the University and have tarnished the reputation of the University, as it portrays the university as an institution where its teachers and examiners trade mark for sex", Professor Ogunbodede stated.