Nigerian Navy intercepts ship laden with over 2,000 bags of smuggled rice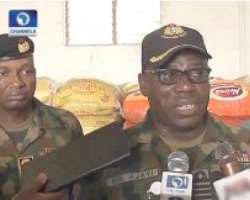 Nigerian Navy has intercepted a ship smuggling a large haul of contraband rice into Nigeria from Cameroon.
According to a report by the Channels Television, the vessel carrying 2,860 bags of foreign rice was intercepted over the weekend by Naval personnel on board the Nigerian Navy Ship (NNS) victory along the Calabar waterway in Cross River State.
The Acting Commander of the NNS victory ship, Captain Babafemi Ajayi, revealed this while parading the five suspects alongside their seized boat in Calabar, the state capital.
Ajayi said the arrests were made following an intelligence report.
"We discovered that the boat was hidden around Calabar channels with this consignments with the intention that when there is darkness, they will use smaller boats to evacuate the products into a warehouse.
"Following the tip-off, we positioned our men into that area. Fortunately, we saw the five men when they wanted to carry out the assignment on the boat. They were subsequently arrested. Further entry revealed their warehouse. When we got there, we saw more consignments, those that have already been offloaded."
Captain Ajaji noted that in compliance with the extant rules, the bags of rice and the suspects will be handed over to the Nigeria Customs Service for further investigation and prosecution.