Osun 2918: APC aspirant, Ayoade Unveils Seven Point Integral Plan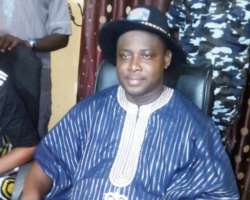 A governorship aspirant in the September 22 governorship election in Osun State on the platform of All Progressives Congress (APC) Engineer Ayoade Afolabi Lawal has unveiled his Seven Point Integral Plan for the state.
Addressing the party faithful who thronged the party's secretariat along Gbongan-Osogbo where he officially declared his intention to contest, Engineer Ayoade Afolabi Lawal promised that industrialization of Osun State will be the main focus of his government if elected the governor of the state come September 22nd 2018.
He told the party leadership in the state that his government will continue from where the current government stopped by ensuring the completion of all ongoing developmental projects and focus on the industrialization of the state.
While commending the administration of Governir Rauf Aregbesola, Engineer Lawal assured the people of the state that his administration will build on what Aregbesola and preceding government have done in terms of infrastructural and developmental projects.
He noted that Osun has experienced some infrastructural development through efforts of the outgoing government and previous ones and that they must be commended for trying their best because infrastructure is crucial for development.
"But for all-round sustainable development, industrial development should take precedence henceforth. This is the way to complement what has been achieved and to deepen the recent gains of democratic governance.
"My administration shall create value chain industrialization that will be all inclusive and no son and daughter of Osun will be left out in the scheme. As we are promoting small and medium scale busineses across the nooks and crannies of the state, our government will also work hard toward attracting foreign investors into the state.
"I want use this medium to commend our amiable Governor, Ogbeni Rauf Aregbesola for his unprecedented development in the state within the state of seven and half years and I promise to build on the legacy of Ogbeni Aregbeeola, if I emerge victorious in the coming election.
"I will make sure I develop the state through agriculture, creation of industries in each of the local government areas of the state, Agriculture, Education, industrialisation, free and quality Health care delivery, security of life and properties, employment opportunity, increasing youths capability through sporting activities and improvement of tourist centres across the state."
Engineer Lawal therefore called on all members of the party to give him their support and ensure that he succeed Ogbeni Aregbesola to continue the good work he has done.
While speaking, the State Chairman of the party, Gboyega Famodun described the Governorship hopeful as a courageous and competent engineer.