ENDS' Letter To Nigerian Authorities Demanding Total#SecurityOverhaul Over Bloodshed: Protests Commence Today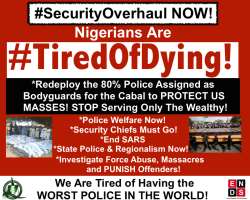 As ENDS registered NGO commences protests for security today, Tuesday, we are circulating our letter of protest with our demands to the Nigerian authorities for total security overhaul.
Our protests will commence in Abuja at noon at Millennium park, and across states around the nation and at Nigerian High Commissions abroad.
Our letter to the Presidency, House of Assembly, Police Department, State Security Agency, Office of the National Security Adviser and Nigerian Army:
June 19th, 2018
TO THE NIGERIAN AUTHORITIES,
THE PEOPLE'S DEMAND FOR TOTAL SECURITY OVERHAUL
After receiving the news of the resignation of Zamfara governor Abdul'Aziz Yari as CSO of the state due to his inability to work with the nation's police, and in lieu of the continuous, unabated and endless rate of terror deaths of poor Nigerians across the federation due to the total collapse of our security establishment; we the people are hereby demanding immediate, total security overhaul in Nigeria.
We present our base demands:
1. IMMEDIATE Retirement of Security Service chiefs!
2. Redeployment of the 80% police currently assigned as bodyguards for the wealthy cabal as admitted by IGP Idris, to secure the masses.
3. Redeployment of SARS to pursue killer Boko Haram terrorists hired by the cattle owners, rustlers and farmers.
4. An end to SARS after above item #3.
5. Return of the military to rest in the barracks, as they have no constitutional role replacing the police with wartime brutality because the police are currently diverted to be bodyguards for the wealthy cabal.
6. Trial of all security agents and heads implicated in massacres and secret burials of protesting youth across the nation. (Zaria massacre, Onitsha and Umuahia massacres, senator Lafiagi Kwara massacre etc.)
7. The Arrest of senate president Bukola Saraki as is constitutionally ordained based on the publicity indictment charade by the police. Once police accuse a citizen of arming terrorists, IT IS A MUST THEY IMMEDIATELY ARREST HIM. Otherwise the police officers responsible for the public charges must be held to account
8. For IGP Idris to be held to account for "flouting" Buhari's orders to keep a special force to protect the poor people of Benue as Buhari alleged.
9. The immediate decentralization amendments to create state police and restore regionalism.
10. 100% monitoring of "Security Votes" allocation and FULL PUBLIC Disclosure of disbursement.
11. Better welfare, funding and mass recruitment for the Nigerian police.
12. Prompt proscription of all groups currently involved in terror in Nigeria without discrimination.
13. Retraining of police, reassignment to areas of need to prevent crime and a total end of intimidation tolls with police begging for bribe on Nigerian roads.
14. Proper registry with full names of all Nigerian deaths from terror without concealment of any kind.
15. Proper benefits and welfare for civilians and state security officials and their families who are victims of terror.
16. The arrest and prosecution of Boko Haram sponsors and all other terror sponsors..
Our police must be saved from the "worst in the world" to a distinguished institution. Nigeria can no longer remain the most terrorized nation on planet earth.
We demand responsibility from the leadership. We shall wait no more for this simple and urgent repositioning of Nigeria's security apparatus.
TOO MANY INNOCENT LIVES HAVE BEEN LOST. THEIR DEATHS MUST NOT BE IN VAIN. IT IS TIME FOR THIS DEADLY IRRESPONSIBILITY TO END ONCE AND FOR ALL. VULNERABLE NIGERIANS CANNOT AFFORD TO WAIT TILL 2019! THE POOR PEOPLE OF BENUE, TARABA, ZAMFARA, ADAMAWA, BORNO, KADUNA, ONITSHA, ENUGU CANNOT BE LEFT TO DIE, HELPLESSLY AND CHEAPLY ANYMORE.
WE DEMAND THE RESPECT OF THE SANCTITY OF LIVES IN NIGERIA
Signed: Dr. Perry Brimah, Tel: +234-903-420-3031; +1-929-427-5305
@CabalMustGo; @EveryNigerian