DELTA LINE: Okowa Is Insensitive, Delta APC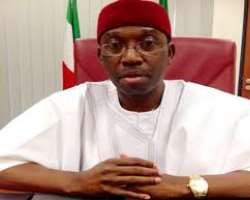 The All Progressives Congress (APC), Delta State chapter has described the state governor Ifeanyi Okowa's approval to sack 568 Staff of Delta Line Transport Service Ltd, as not only insensitive to the plight of Delta workers, but has shown that the governor is clueless.
The party in a press release issued on Friday, June 15, 2018 by its State Publicity Secretary, Mr Moses Kamanya said that, it is sad to note that while other progressive governors are initiating people oriented projects and engaging all other activities that will better the lots of her citizens, Governor Okowa is throwing Deltans into already saturated unemployment market.
The party stated further that, while Deltans were complaining of the ways and manner their collective heritage were auctioned out to political allies who sponsored Okowa's governorship election in 2015 for a mere N161million for an equity, rejected another investor bid for over N2billion, they are shock to learn that 568 breadwinners have be thrown into an uncertainty.
According to the statement; "our independent investigation has shown that the management of God Is Good Motors (GIGM), who bought 70 percent stake of the company from Delta State Government, at rip-off price of N161million, has not invested a kobo since taken over.
"Like every actions of the PDP led government since 1999 which has always been anti-Deltans, if not how do you explain why a government will throw its citizens into untold hardship on the altar of political exigencies?
"Today the information out there is that, the new management has started recruiting non-Deltans employees from Anambra and Imo states at the expense of Deltans who labored for the transport company for years, so whose interest is Okowa serving?
"We are sympathizing with the affected families over this unjust action of the PDP led government in Delta state and we want Deltans to see this as a wakeup call to vote out this insensitive and clueless government come 2019 and take back our state and common wealth from these rabble-rousers that has held the state hostage", the statement added.