Exposed: INEC uncovers plot to manipulate Osun governorship election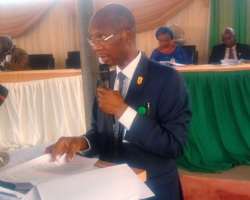 The Independent National Electoral Commission (INEC) today disclosed that it has uncovered the plot to manipulate the September 22 governorship election in Osun state.
The INEC Resident Electoral Commissioner in the state, Mr Olusegun Agbaje said the commission has put necessary mechanisms in place to thwart the plot.
According to the INEC boos, part of the mechanisms was the prohibition of the use of mobile phones at the polling centers during the election.
At a meeting with representatives of political in the state, Agbaje said some politicians were planning to manipulate the process and that the use of telephone would not be allowed in the polling center as part of measures to prevent the manipulation.
He examined that some politicians were making arrangement to use money to entice and induce voters at the polling center and compel the voters to vote for a particular candidate and then snap the ballot paper as evidence or receipt for the money.
The REC said such action constitutes electoral offence and warned that any voter caught snapping his or ballot paper before, during or after casting his or her vote would be apprehended and prosecuted according to the law.
He said "We won't allow the use of phones at the polling centers. We are aware of plan by some people to manipulate this process by compelling the voters to snap their ballot papers and present such as receipt for money given to entice and induce them. That's unacceptable and we won't allow it."