June 12 Declaration Makes SDP Real Third Force – Osibogun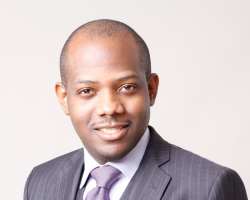 A youth advocate and constitutional lawyer, Mr. Adekunle Osibogun, has described the Federal Government's declaration of June 12 as the country's new democracy day and the posthumous award bestowed on the Late Chief Moshood Kashimawo Olawale Abiola, the winner of June 12th 1993 annulled Presidential election, as a reawakening call for agitators of the June 12 Movement to take up the mantle of the third force movement.
He said the timely declaration by President Buhari, no matter the political motivation, has put to rest the debate on the ideal party to hoist the flag of third force movement ahead of the 2019 General Elections.
In a statement made available to newsmen on Wednesday in Lagos, the British trained constitutional lawyer opined that with the official recognition of SDP's victory in 1993 and the declaration of June 12 as Democracy day, the ideal party to hoist the flag of the third force movement for the 2019 General Elections is neither Obasanjo's African Democratic Congress (ADC) nor Olisa Agbakoba's Alliance for New Nigeria (ANN), but the Social Democratic Party (SDP), a party that represents social justice, peace, equity and fairness.
Osibogun said, "the declaration of June 12 has rejuvenated the spirit of democracy within the country and the SDP will be a vibrant platform for democrats who are opposed to the continued rule by pseudo-democratic political parties of All Progressive Congress (APC) and Peoples' Democratic Party (PDP) after the 2019 General Elections.
"This is because the SDP is the only political party of true democrats that will be participating in the 2019 General Election which has won a presidential election in Nigeria. On performance, the APC has failed Nigerians on its 2015 campaign promises, especially on corruption, security and the economy, while Nigerians have still not forgiven the PDP for its past atrocities".
The Lawyer said the declaration of June 12 has demobilised democratic imposters who have pretended to be democrats and the beacon of hope for the survival of our country's democracy.
He further said that the 2019 General Election will be an opportunity for Nigerians to restore the 1993 mandate of the SDP to restructure Nigeria and implement the social democratic manifesto of the Late Chief M.K.O. Abiola, while freeing the country from the grip of retired military generals in the APC, PDP and ADC.
While congratulating the leadership and members of SDP on the recognition of the party's victory in 1993, said if the party is voted into power in 2019, Nigerians will witness a massive positive transformation in governance based on the party's restructuring agenda.