Nigerian Army Organises Medical Outreach For Borno And Yobe Communities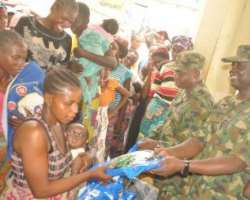 Troops of 27 Task Force Brigade,Buni Yadi, Yobe State, recently organised a medical outreach for communities in Borno and Yobe States.
Brigadier General Texas Chukwu, Director Army Public Relations said Tuesday in a statement that some of the beneficiaries are from mostly communities devastated by the Boko Haram insurgents.
Speaking on the exercise, the Emir of Potiskum, Alhaji Umaru Bubaram commended the Nigerian Army for organising such exercise. He added that the exercise will further strengthen the already existing cordial relationship between it and his people.
Also, the Chairman Yunusari Local Government Area, Yerima Lawan applauded the Army for the exercise.
He recalled how the Army medical team saved the communities from poliomyelitis in 2015.
It would be recalled that communities that benefitted from the medical outreach include: Buratai, Kamuya, Bam Buratai, Kamuya Kuffi in Biu Local Government Area of Borno state.
Similarly, Buni Yadi, Buni Gari, Gashua, Azare, Katarko in Gujba Local Government Area of Yobe State benefited from the exercise.
The beneficiaries were treated of malaria, typhoid, cholera, diarrhoea, diabetes, among others.