Home Base, at the Threshold of Douglas House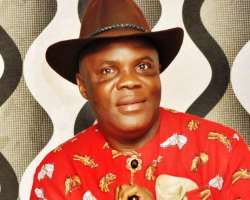 A journey of a thousand miles begins with a step and ends with a step. Step by step, day by day, proximity beckons on the scuttling heels, which only one- The luckiest, the destined, and the ordained beyond the clouds, is the crown wearer, and comes first amidst all hustlers. While everyone walks, the velocity, striding vigour and directedness of the walkers, make for the stroller and the promenade, the saunter and ambler, the marcher and the trekker, the scuttling and the scurried voyager. These characterise gubernatorial aspirants that have marshalled themselves out for the Imo 2019 race to Douglas House, each having private intentions for the outing, which determines how one walks untoward.
Barr Chima Anozie as a participant in the race is neither a stroller nor promenade, neither a saunter nor ambler for the Imo 2019 race to Douglas House. He scurries and scuttles untoward, and on the right direction. He has accelerated to the Threshold of Douglas House by his personal efforts and by freak of fate. Just like a dream, all is working according to his predictions. He is on his own, not joining the Agburu or the Coalition camp. The two camps now groan over the tussle and on how to share the booties. "After the reggae, play the blues!" The blues!! The blues!!!
Chima Anozie is disposed to one and united APC, nationwide and state-wise. He does not participate in the fight as he is 'Nwa ogboo ogu' (the pacifist). He does not have enemies or see his co-contestants in the gubernatorial race or for any position as obstacle, and as such he sees all Imolites and Imo APC as his own Agburu. On this, he strongly advises Imo APC aspirants thus "hope to win; expect to lose, and live with the result either way."
In his recent declarations out of foresight, it is certain that Imo APC guber choice is back to Owerri zone, and the party has the Government House as a continuum. Besides this insight, and going by the natural unfolding of events and realities, Imo APC's sole option is Barr Chima Anozie, who has in plethora, all it takes to rule Imo State. He is at peace with all his party members and leaders in the Coalition, he is at peace with his party members, leaders and the people's Governor in the Agburu camp. For him, the only solution Imo APC has is 'no victor, no vanquished,' which I know he replicates and thus the emergence of the neutral aspirant- Home Base for Douglas House.
In the Agburu camp of Gov Okorocha and Hon Uche Nwosu, the impacts from the Coalition camp and the consequent ripple effects of their activities, have rendered Ugwumba Uche Nwosu apparently unmarketable, a sort of bad market, given the uprising against the Governor's choice of him as anointed successor. The greater part of the Agburu is allegedly now considering other alternatives. Some opt for Chike Okafor (though Chike Okafor is denying the choice now), some suggest Jerry Chukwueke, and some say Home Base, while others sigh at the mention of his name, saying 'Home Base does not want to support or identify with us.' But, how can a real brother identify with any of his siblings in face-offs? O ga i-wu broda uru, broda aruruala!
Similarly, the Coalition is considering other options outside Senator Ifeanyi Araraume. Some opt for Prince Eze Madumere, some suggest Sir Jude Ejiogu, and others prefer Senator Benjamin Uwajumogu. But, who will come down for the other? Also, none thinks of Engr Chuks Ololo and Air Commodore Peter Gbujie, not to talk of Barr Chima Anozie (as the camp is so rigid than Agburu, in such manner that there is no stance outside the two extreme poles). The Coalition too, decry that Home Base does not want to support or identify with them, but confesses he is a good option if they are to lose out. But on their annoyance, I want to ask, how can a real brother identify with any of his siblings in face-offs?
Most members of the Coalition camp, (know the apparent bad-market status, which their grand figures there have assumed before Governor Okorocha), and are insinuating that Rochas should change his choice of his son-in-law, Ugwumba Uche Nwosu and use Chief Chuks Ololo. This suggestion makes for one truth, which the Imo APC and its chieftains have not had time to consider- The inevitability of Governor Rochas Okorocha in Imo APC affairs, especially in the party primary race and the actual election for his successor proper. As a sitting Governor who seeks no re-election, he has not just a say, but a very strong one, which nonetheless does not override the party's supremacy in final decision on who bears its ticket and flag for the guber election.
Thus, no matter which accusations Governor Okorocha is alleged to be liable. No matter which impunity and segregative ploys and tilts he might be seen and adjudged, Governor Rochas Okorocha is a conditio sine qua non in Imo APC and things get worsened with the truth about Imo governorship election for 2019, which he is incumbent. He has a quantified stake and input to make both on the choice of APC's candidate for the election and the emergence of his actual successor by ballot early next year. Whoever believes he can do away with Rochas in the APC primaries and general election, is daydreaming.
Of a truth, no matter which name Gov Okorocha is called (a tyrant, a nepotist, an opportunist, a familiocrat, etc, which his recent activities and reactions pave way for such opinions), his interest either in his son-in-law or any other guber aspirant must to great somewhat be taken good account of, if the party must win the general guber elections next year. If not, history is cyclic. Rochas may represent Udenwa, who is also his zone's brother, and some figures in both Agburu and Coalition, will take up Charles Ugwu and Ifeanyi Araraume, etc. Many actors on the 2007 stage are back, and we must not let history repeat itself. First, on Gov Okorocha, it makes him a petty Governor like his antecessor, who ruled for 8 years and could not produce his successor from same ruling party. That same mistake is killing Imo PDP till today. Second, it will make Udenwa and Okorocha mouth-less if the next Governor would produce a successor from the ruling party after his tenure in office. Third, what is incumbent on Rochas to do, is not just his primordial choice successor, but a good alternative that protects his interest and from same ruling party. That's politicking!
On the other hand, it is crystal clear that whoever is in the Agburu camp that believes the camp alone can do it, is schizophrenic. The Coalition has superlatively and pragmatically usurped the greatest chunk of the party's leadership, population, sympathy, structures and followership. The membership compositions are of grand stuff that they have turned into a broom, which breaking will not be possible, and they can do and undo. Their real name for me is JOB BREAKER. The little 'job-breaker' show they remonstrated for the Agburu camp is a prefiguration of their makeup, and their determination, which may replay Imo PDP guber 2007, and another Ohakim will emerge Imo Governor from an unpopular party.
Nonetheless, Imo APC needs both camps. They are the alternate phases of a coin, without which it loses it legal tender. Given these extreme realities, who will succeed Rochas Okorocha in 2019? First, Governor Okorocha is inevitable. Second, the Coalition members have turned into phenomena and unavoidable chain of causes. Who shall go and shall stay? The Shakespearean Hamlet says, 'To be or not to be, that is the question.' If the Governor should succumb to pressures and have a change of Uche Nwosu, who shall it be- Chike Okafor? No he hasn't such clout and has honestly denied his interest. Or can he go for Chuks Ololo his brother-in-law or for one of Eze Madumere, Jude Ejiogu or Ifeanyi Araraume? Air Commodore Peter Gbujie is good, but is a real sell-over for the opposition parties' candidates in the election proper; he is like a toddler in Imo politics.
How do we now pair them? Araraume/Nwosu, Madumere/Uwajumogu, Nwosu/Ejiogu or Ololo, etc? To bargain for peace is an uphill task. But this peace is the only option left for the two apex leaders of the Party in the State- Gov Okorocha and Dr Hilary Ekeh. Yes, there are two options. The first is that Imo APC across camps, have a roundtable resolution which brings up a consensus candidate (and his pair up) before the primaries. The second is that Coalition turns to pick a qualified Owerri-zone gubernatorial aspirant from their midst or outside the Coalition that have acceptability in Agburu camp, no matter what happened. That will destroy Gov Okorocha's crest and make the Coalition honest and prove them being on the truth. Thirdly, that Agburu turns to pick a candidate from Owerri zone that has acceptability in Coalition camp and thus breaks the Coalition's claims on Governor Okorocha as overtly nepotistic and tyrannical. Who goes first, wins the primaries. But who goes to equity must go with clean hands.
The first option certainly may end up ruining the party the more, while the second and third entail sacrifices from both camps. All must sacrifice for one person to go in either camp, and use that as top game to topple the other to submission. Otherwise, if Imo APC goes to primaries in this formula, someone who is not so much expected will pull great surprises, which will humiliate both camps. It is on these three options and on the latter note that Barr Chima Anozie is at the doorstep of Douglas House.
For sure, if Governor Okorocha would consider any worthy aspirant outside his Agburu; who is from Owerri zone, Chima Anozie is indubitable and the Coalition would have no problems with his choice. If the Coalition would consider anybody outside their folk to be Governor, meaning they have lost it but never to Okorocha, it is incumbent on them to lose in a bigger manner, by making for the neutral man than being compelled to join him. And in this too, Barr Chima Anozie stands tall. Besides, given what transpires in the party for close to 90days now, as Imo APC goes to the primary polls, Barr Anozie (Home Base) will certainly carry the day.
Of a truth, on a neutral platform, if all should go to sort it out now at the polls, given the level-play ground that the Coalition has succeeded to ensure in Imo APC, no candidate from both camps will out-win Barr Chima Anozie. He will surprise them. The type of crowd he pulls today surpasses separately those of either camp. There are Nichodemus' journeys by party faithful and chieftains across the camps, which thank God he is strongly in the race, and manifests their massive departure (in substance) from the two camps. It is left for Imo APC stakeholders and Excos to rise and do the needful now. A stitch in time saves nine. But till then, Imo APC members are now glad that Home Base is at the Threshold of Douglas. We shine for Jesus!